Treats for Your Easter Basket
Posted on : April 16th, 2019
What's in your Easter basket? I'll tell you what's in mine: treats from Maisie Jane's!
Almond candies are naturally egg-shaped. That makes them traditional for Easter in places like Portugal where amêndoas de Páscoa (Portuguese Easter almonds) are exchanged by practically everyone! Amêndoas are pretty much the same as the many chocolate almond treats we make at Maisie Jane's. And they come in so many different flavors you are sure to find something every family member will enjoy. Pick out a variety of family favorites to put everyone's Easter basket or . . .
Choose from one of our pre-made gift baskets or gift options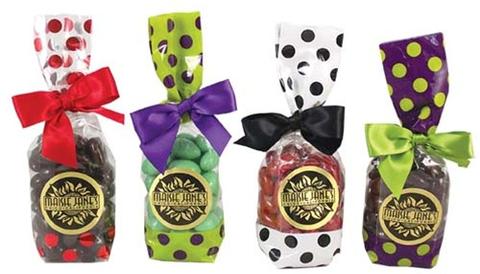 One of my Easter basket must-haves are these polka dot treat bags. They're so colorful and cute and tied with a bow. There are six delicious varieties to choose from: Dark Chocolate, Mint Chocolate, Chocolate Toffee, Cappuccino, Chocolate Truffle, and Milk Chocolate.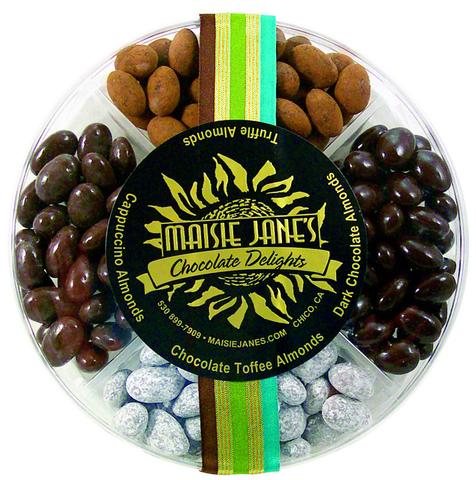 Are you gathering with family for a big Easter dinner? Make sure to get one of our Chocolate Delights Gift Rounds! Four varieties of our most popular offerings in an easy-to-serve round tray. It includes Dark Chocolate, Truffle, Chocolate Toffee and Cappuccino Almonds topped with a beautiful ribbon.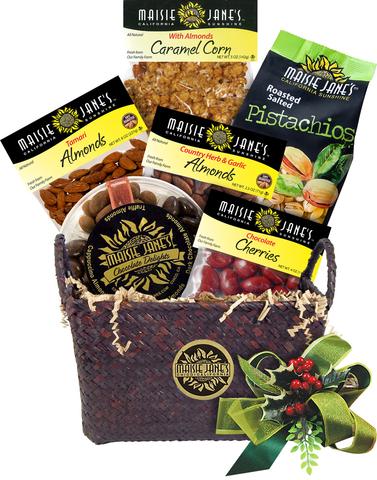 Even more fun is our Family Fun or Office Enjoyment Basket #2, decorated for Easter with a season-appropriate bow. In it you'll find a small Chocolate Delight Round, a bulk bag of Roasted Salted Pistachios, Chocolate Cherries, Caramel Corn with Almonds, Country Herb & Garlic Almonds, and Tamari Almonds.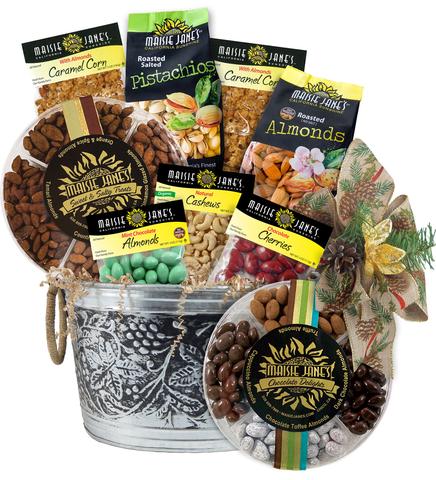 Have a larger crowd to please? That's easy—choose my favorite Spring basket Family Fun or Office Enjoyment Basket #1. This one comes in a reusable decorative pail that's perfect for putting potted plants or flowers in later. Inside you'll find a Chocolate Delight Nut Round, Sweet & Salty Nut Round, Caramel Corn with Almonds, bulk bags of Oven Roasted Almonds, Roasted Salted Pistachios, Sweet and Salty Seeds, and Chocolate Cherries. (Please note that the most current photo of this gift basket was lost in the Camp Fire. Refer to my description for what's included.)
Local to Chico, CA?
Come on by our gift shop at 1324 Dayton, Chico, CA 95928 and pick up your favorites with a wide selection of other Easter gifts today!
---
Maisie Jane's California Sunshine Products, Inc. was founded on strong beliefs and passion for offering unique, flavorful, top-quality, nut products. We strongly believe in earth-friendly practices that start on our family owned and operated orchards. We use Organic farming practices and continue in the process by using all-natural ingredients with no preservatives or GMOs. We believe in honest, friendly and helpful customer relations at all levels. We take pride in every task, every day, with every person.