Raspberry Almond Trifle (Recipe)
Posted on : December 5th, 2019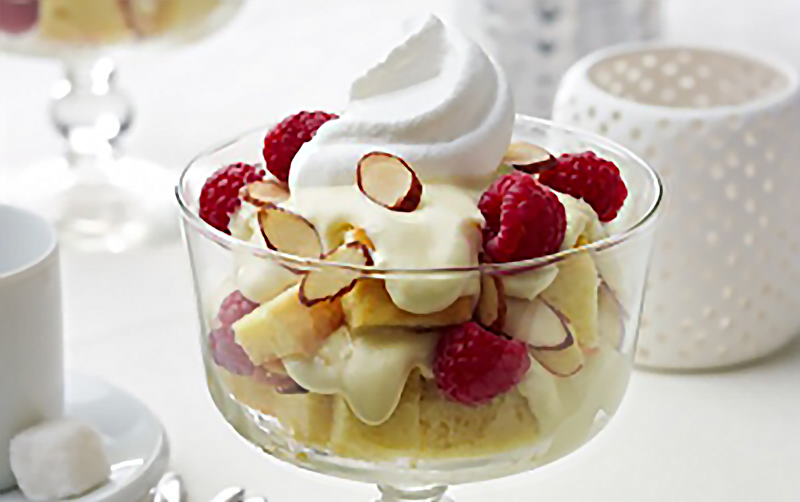 English Trifle always strikes me as such a festive and fancy dessert. It's made with fruit, a layer of sponge cake soaked in sherry or wine, and topped with a layer of custard and perhaps whipped cream. Today's recipe created by Pastry Chef Jenny McCoy, Co-Founder of Cissé Gourmet Baking Mixes, is equally impressive. But it features the wonderful taste of almonds and almaretto liquor through and through!
Trifle is not difficult to make but it does take time to make the cake and almond cream and then assemble it. So plan ahead! At least start the day before you want to serve it to make it easy on yourself or hop on it first thing in the morning, knowing this will be your project on and off for much of the day. The almond cream, for example, needs at least a couple of hours to chill in the refrigerator. Traditional trifle is made in one large glass bowl and dished to guests. This recipe allows you to make each person their own mini trifle so it looks beautiful when served. Use a goblet or large wine glass to make it extra special.
Raspberry Almond Trifle
Ingredients
Cake Ingredients:
¾ cup plus 1 tbsp cake flour
¼ tsp salt
¼ tsp baking powder
¼ tsp baking soda
4 tbsp unsalted butter, softened
½ cup plus 2 tablespoons granulated sugar
½ tsp almond extract
3 large egg yolks
¼ cup almond flour
1/3 cup sour cream
3 large egg whites
Almond Pastry Cream Ingredients:
1 cup unsweetened almond milk
2 cups whole milk
¾ cup Maisie Jane's Natural Almonds, finely chopped
¾ tsp salt
¼ cup plus 2 tbsp almond paste, finely chopped
9 large egg yolks
¾ cup granulated sugar
3 tbsp cornstarch
6 tbsp unsalted butter, softened
1 cup heavy cream
Assembly Ingredients:
1 cup heavy cream
¼ cup amaretto
1 recipe Almond Pastry Cream (above)
1 recipe Almond Cake (above)
4 cups raspberries
1 cup sliced almonds
Preparation
Make the Cake
Preheat oven to 350 Degrees F. Line a 9×9 baking dish with parchment paper and lightly coat with non-stick cooking spray.
Sift flour, salt, baking powder, and baking soda.
In the bowl of a stand mixer, fitted with the paddle attachment, cream the butter, sugar, and almond extract until light and fluffy, scraping down the sides of the bowl as needed. Add egg yolks and continue to mix until combined. Slowly add sifted dry ingredients, almond flour, and sour cream, alternating between each until fully combined.
Transfer batter to a large mixing bowl and set aside. Clean the mixer bowl well. Then in that bowl and using the whip attachment on the mixer, mix egg whites on high speed until stiff peaks form.
Gently fold into cake batter, pour into prepared baking dish, and bake until light golden brown and a cake tester inserted into the center of the cake come out clean, about 16 to 20 minutes. Let cool to room temperature. 
Make the Almond Pastry Cream
Preheat oven to 350 Degrees F (or continue with the oven preheated from making the cake).  Line a baking sheet with parchment.
Spread almonds on the parchment-lined baking sheet and toast until deep golden and fragrant, about 6 to 8 minutes. Reserve baking sheet lined with parchment for later use.
In a large saucepan, bring almond milk, milk, toasted almonds, salt, and almond paste to a boil. Remove from heat and let steep for 10 minutes.
In a large mixing bowl, whisk the yolks, sugar, and cornstarch until smooth. Return the milk and almond mixture to a full boil. Then slowly pour the hot almond milk into the yolks, while whisking constantly.
Return entire mixture to the saucepan and cook over low heat, while stirring constantly, until mixture just thickens and begins to bubble. Remove from heat, add butter, and whisk smooth.
Strain pastry cream through a fine-mesh sieve onto prepared baking sheet, cover with plastic wrap, and refrigerate until fully chilled, about 2 hours.   
Assembly
In the bowl of a stand mixer, fitted with the whip attachment, mix the heavy cream until stiff peaks form. Fold whipped cream into chilled pastry cream. Refrigerate until ready to use.
Place the amaretto into a small bowl. Transfer almond pastry cream to a pastry bag fitted with a ½-inch round pastry tip. Cut cake into 16 even pieces.
Place one piece of cake in the bottom of each serving dish or wine glass. Lightly brush the cake with amaretto, top with 4-6 raspberries, sprinkle with 1 tbsp sliced almonds, and cover with a thin layer of Almond Pastry Cream. Repeat layering and top with ¼ cup whipped cream, a few raspberries, and sliced almonds to garnish. 
Serve and watch your guests be delighted!
---
Maisie Jane's California Sunshine Products, Inc. was founded on strong beliefs and passion for offering unique, flavorful, top-quality, nut products. At Maisie Jane's we strongly believe in earth-friendly practices that start on our family owned and operated orchards. We use Organic farming practices and continue in the process by using all-natural ingredients with no preservatives or GMOs. And we believe in honest, friendly and helpful customer relations at all levels. We take pride in every task, every day, with every person.