Maisie Jane's Chocolate December Sale
Posted on : December 11th, 2018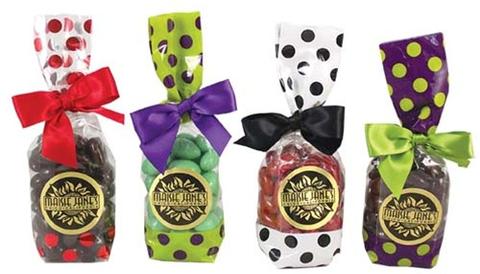 Can you imagine the holiday season without chocolate? I can't! That's why I'm excited to announce Maisie Jane's Chocolate December Sale! 15% off all your favorite chocolate nuts, now through December 31st. But get them NOW because you're going to want these in holiday stockings and heaped around the house for holiday parties and snacking.
What's included?
Let's start with my holiday favorite: our Polka Dot Treat Bags! I love these because they're so cute in their decorative polka dot bags tied with a bow. They're perfect for stocking stuffers or tucked under the tree and they're filled with your choice of our favorite holiday treats: Dark Chocolate Almonds, Mint Chocolate Almonds, Chocolate Toffee Almonds, Cappuccino Almonds, Chocolate Truffle Almonds, and Milk Chocolate Almonds. Get some of each and use them for holiday grab bags or party favors!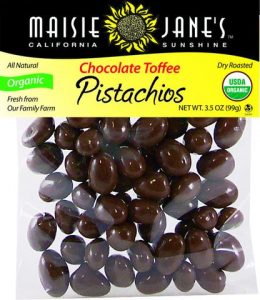 But maybe your idea of a great holiday are bowls full of chocolates to snack on and share with the whole gang. Then pop on over to the chocolate section of our online store and look for the little green "sale" labels. All sizes of our chocolate nuts from 3.5oz up to 16oz bags are on sale! All the choices available in our Polka Dot Bags above are included but you'll also find our completely decadent Organic Chocolate Toffee Pistachios, Organic Dark Chocolate Sea Salt Cashews, spicy (but not too spicy) Dark Chocolate Chipotle Almonds, Organic Dark Chocolate Almonds, and Chocolate Pecans.
Remember if you live near Chico, CA you can save on shipping by selecting "Pick-Up in Store: Chico, CA" and adding your pick-up date and times! It's so easy to shop online and pick up your order on the date you wish at our Maisie Jane's Gift Shop at 1324 Dayton Rd, Chico.
But you can also have your selections shipped anywhere in the country.
Just keep in mind these important dates:
December 14 — Last day to guarantee shipment delivery by Christmas for your online purchases
December 22—Last day to place online orders and schedule local pickup at the Chico store location
December 23 – Last day for local Chico store pickup of online orders.
Happy shopping and thank you for supporting local family farms!
---
Maisie Jane's California Sunshine Products, Inc. was founded on strong beliefs and passion for offering unique, flavorful, top-quality, nut products. We strongly believe in earth-friendly practices that start on our family owned and operated orchards. We use Organic farming practices and continue in the process by using all-natural ingredients with no preservatives or GMOs. We believe in honest, friendly and helpful customer relations at all levels. We take pride in every task, every day, with every person.