How a Spoonful of Nut Butter Will Bring You to Your Senses
Posted on : December 2nd, 2016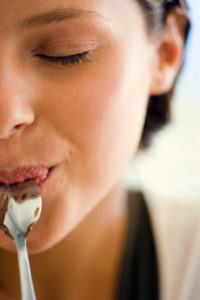 Almost everything tastes better with butter. Such a decadent word associated with creamy, spreadable goodness to improve any dish. Except, butter doesn't have the best reputation when it comes to your health.
You don't have to settle for regular butter on your breakfast toast or in your dessert recipes. We bring to you our incredible nut butters – and all but one are made with a single ingredient. They're extremely healthy, packed with protein and vital minerals, and lend an earthy depth to whatever dish they're supplementing.
We recognize not all nut butters are created equal, and some of you may have had a less-than-desirable experience with them. Too oily, too grainy, not spreadable – there are many reasons – but Maisie Jane's nut butters are held to a higher standard not only by us, but by our customers. Why? Because we are different in ways that will shatter the ceilings you may have tied to this delightful treat.
An Indulgent Character
Upon opening your jar of Maisie Jane's nut butter, the first thing you'll notice is a fragrant greeting from our orchard to your home. The deep and smoky scent of fresh, dry-roasted, naturally slightly sweet tree nuts perfume your kitchen in soft undertones of nutty goodness.
You give the jar a quick stir to mix in the slight layer of natural oil, and take a bite. What you'll find isn't anything like what you've experienced. It's a spoonful of sumptuous, velvety deliciousness with a hint of texture bringing a full scope of unique character to your tongue.
It melts the moment you take a bite, saturating your senses with palatable and gratifying complexity. You can spoon the smooth mixture onto toast, fruit, or mix it into a dish to give it a small but somehow profound layer of mellow umami to create a quietly distinctive aspect in any cuisine.
Compound Flavor
Once you've moved past the sheer decadence of the texture, you'll come to your senses with the flavor. It's rich, yet delicate. Full bodied without being overpowering.
Due to the specific type of almonds used in our almond butter, you'll find a roasted, slightly sweet-infused butter gently laced with a smoky aftertaste.
Our nut butters aren't just healthy, nourishing, jars of lip-smacking flavor – they're positively tantalizing. You'll crave the delectable, filling yet light, lusciously smooth butters. The creamy mixtures will entice your taste buds knowing full well they pair well with any meal.
If you haven't tried our nut butters, what are you waiting for? They're the perfect opportunity to improve your daily intake of vitamins and minerals, a marvelous addition to any dish, and can hold their own when eaten simply by the spoonful.
Visit our online store to order these mouth-watering treats by clicking here or learn how to use them in recipes in the free guide below.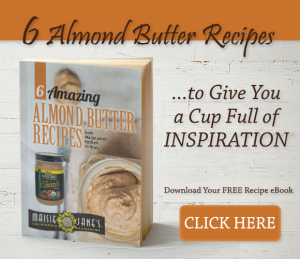 Maisie Jane's California Sunshine Products, Inc. was founded on strong beliefs and passion for offering unique, flavorful, top-quality, almond products. We strongly believe in earth-friendly practices that start on our family owned and operated orchards. We use Organic farming practices and continue in the process by using all natural ingredients with no preservatives or GMOs. We believe in honest, friendly, and helpful customer relations at all levels. We take pride in every task, every day, with every person.