Cook, Bake and Create: 6 Different Ways to Use Nut Butter
Posted on : August 29th, 2017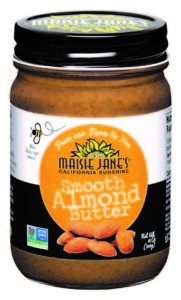 Maisie Jane's nut butter is great to spread on toast, dip an apple in, or to eat by the spoonful for a quick protein fix. It's even better when used in recipes. You can add almond butter to your smoothies or protein shakes in place of peanut butter or try cooking and baking with it. Because Maisie Jane's nut butter doesn't contain any added salt, sugar, oils, or preservatives you're adding a delicious wholesome protein to your diet. Use the gluten-free, vegan, and kosher certified nut butter in tons of recipes.
Recipes Ideas:
For a sweet treat make these delicious Almond Butter Cups using dark chocolate chips, coconut oil, almond butter, and graham crackers. Your end result is a bunch of almond butter cups you'll have trouble staying away from. Freeze in serving size batches to make sure you don't overindulge!
Have you added Almond butter to your kale chips yet? Roast your kale chips with an almond butter drizzle in this recipe to give them a unique and interesting flavor combo.
Almond butter works as a glaze on salmon or chicken and creamy addition to sauces with your pasta. If you've never thought of using almond butter before you are missing out.
Flourless Almond Butter Cookies – These cookies are easy to make and only contain 6 ingredients! Perfect for gluten-free diets and allergy sufferers. Give yourself 25 minutes to create and bake. Then treat yourself to the warm, gooey cookie hot out of the oven. You won't miss the flour at all! Looking for other baked goods? Check out these almond butter baking recipes.
Almond Butter Chocolate Monkey Protein Shake – There are only 5 ingredients needed to make this protein-packed healthy shake perfect for a morning commute or after a tough hour in the gym. Add milk or almond milk, almond butter, bananas, cocoa powder, and a little vanilla extract to your blender. Mix and enjoy. This is a recipe even your kids will love!

If you've never worked with flank steak before, don't worry. It's easy and simple. Most of the ingredients for the Beef Satay with Almond Butter Dipping Sauce are pantry staples like garlic cloves, soy sauce, Maisie Jane's almond butter, and brown sugar. Grab a one-pound flank steak and set to work making this juicy, sweet and tangy recipe. This dish is great with rice, salad, or noodles.
If you haven't added Maisie Jane's nut butter to your pantry yet, what are you waiting for? Try it in all your recipes instead of peanut butter for added health benefits, lower cholesterol, and a unique taste.
Maisie Jane's California Sunshine Products, Inc. was founded on strong beliefs and passion for offering unique, flavorful, top-quality, nut products. We strongly believe in earth-friendly practices that start on our family-owned and operated orchards. We use organic farming practices and continue in the process by using all-natural ingredients with no preservatives or GMOs. We believe in honest, friendly and helpful customer relations at all levels. We take pride in every task, every day, with every person.