Make Handcrafted Flavored Nuts Your New Healthy Habit
Posted on : March 20th, 2017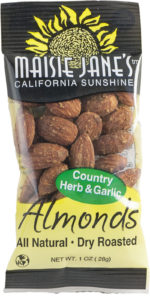 As a kid, you learned the foods that were healthy for you and the foods that weren't. To learn about them our teachers had us creating our own food pyramids by cutting out and gluing the foods in the correct section of the pyramid. Besides being just a fun activity (and a big break from doing math problems) it helped you figure out what your body needs to eat to be healthy.
Think back to that food pyramid – do you remember where you would put the nuts? They go near the top with all the meat products. According to nutritionists, you should be eating nuts 1-3 times per day. This health tip gets easily forgotten though because lots of people associate nuts as bland snacks and go right into the "healthy but not tasty" category.
Maisie Jane's has created "handcrafted nuts," which are fancy words for yummy delicious flavored nuts and far from boring. There are 14 different flavors to choose from. You'll be excited when you remember that eating nuts 1 to 3 times a day is good for you! Here are just a few of our favorites to choose from:
Honey Glazed Almonds
Honey and spices make these California walnuts irresistible! They're terrific to snack on or add that 'crunch' to your salads, cereal, ice-cream, and more. Dry Roasted, gluten free, Kosher certified.
Cinnamon Glazed Walnuts
Not too sweet, but with just the right amount of cinnamon, these toasted walnuts are terrific to snack on or add that 'crunch' to your salads, cereal, ice-cream, and more. California Walnuts, Dry Roasted, Gluten Free, Kosher certified.
Country Herb & Garlic Almonds
Two Old World favorites, California almonds and garlic, are joined together for an unforgettable experience. Enjoy these two European favorites as a mid-afternoon snack, a delicious salad topping, or with a glass of your favorite cabernet wine! Dry Roasted. Gluten Free. Kosher certified.
Organic Honey Glazed Cashews
Glazed to perfection these Organic Cashews are crunchy on the outside with the natural sweetness of organic honey. Gluten free.
Orange & Spice Almonds
The real taste of orange, combined with pumpkin spices, will remind you of the holiday tastes and smells of Christmas. They make the perfect mate for a cup of tea, as a special ingredient in cakes and cookies, or the easiest snack straight from the bag! California Dry Roasted Almonds. Gluten Free. Kosher certified.
It doesn't matter if you're craving sweet or spicy, regular or organic, we have the nuts you're looking for. Make new healthy habits that will start to seem like a treat with the amount of taste and flavor that goes on inside your mouth.
Maisie Jane's California Sunshine Products, Inc. was founded on strong beliefs and passion for offering unique, flavorful, top-quality, almond products. We strongly believe in earth-friendly practices that start on our family owned and operated orchards. We use organic farming practices and continue in the process by using all natural ingredients with no preservatives or GMOs. We believe in honest, friendly, and helpful customer relations at all levels. We take pride in every task, every day, with every person.