Eat the Right Amount of Almonds Every Day
Posted on : May 2nd, 2019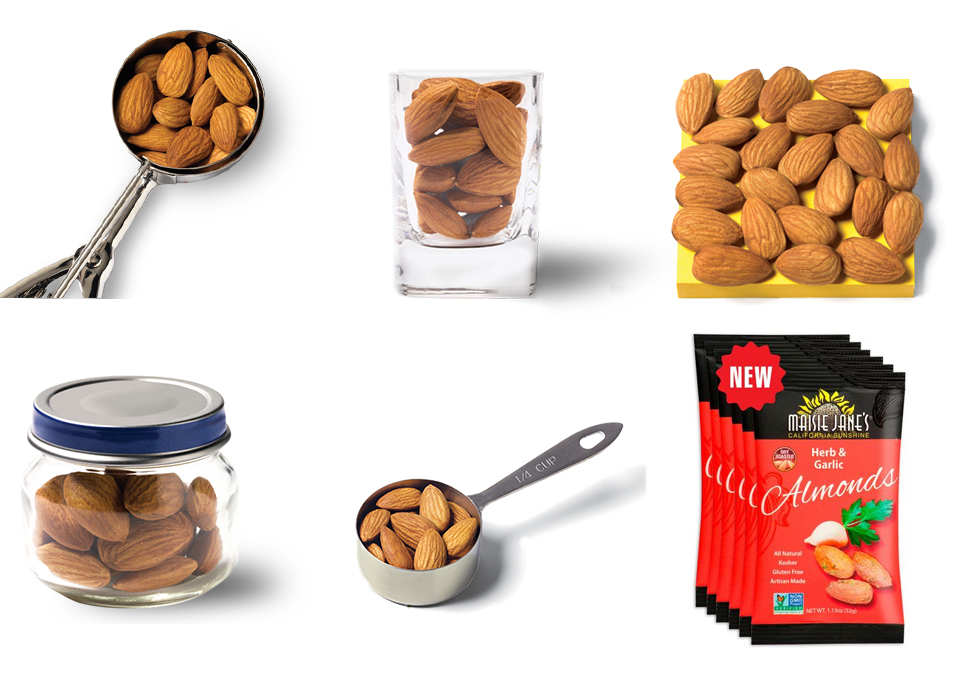 The right amount? What does that mean?
Well, everyone knows by now that almonds are a great source of nutrition and make the perfect snack. Almonds are full of protein and good nutrients like magnesium and vitamin E. They have lot of healthy fiber and beneficial fats. Research has shown that they can help you control your blood sugar levels, reduce blood pressure and lower cholesterol levels while addressing your hunger. And if you substitute them for a less healthy snack almonds can even help you lose weight!
But did I mention they have a lot of fat? Yeah. Even the good kind can be overdone. So that's why the Dietary Guidelines for Americans recommends that the ideal daily portion is 1 ounce of almonds, or about 23 almond nuts. That's enough for the healthy benefits without overdoing it on the fat, assuming, of course, that you're not binging on other fat-filled choices like ice cream, cookies and chips that are less good for you as well!
1 oz or 23 almonds. That's the size of a small handful. An ice cream scoop. A shot glass full. The number that fit on a standard post-it note. In a baby food jar, a 1/4 cup, or . . .
A Maisie Jane's Snack Pack!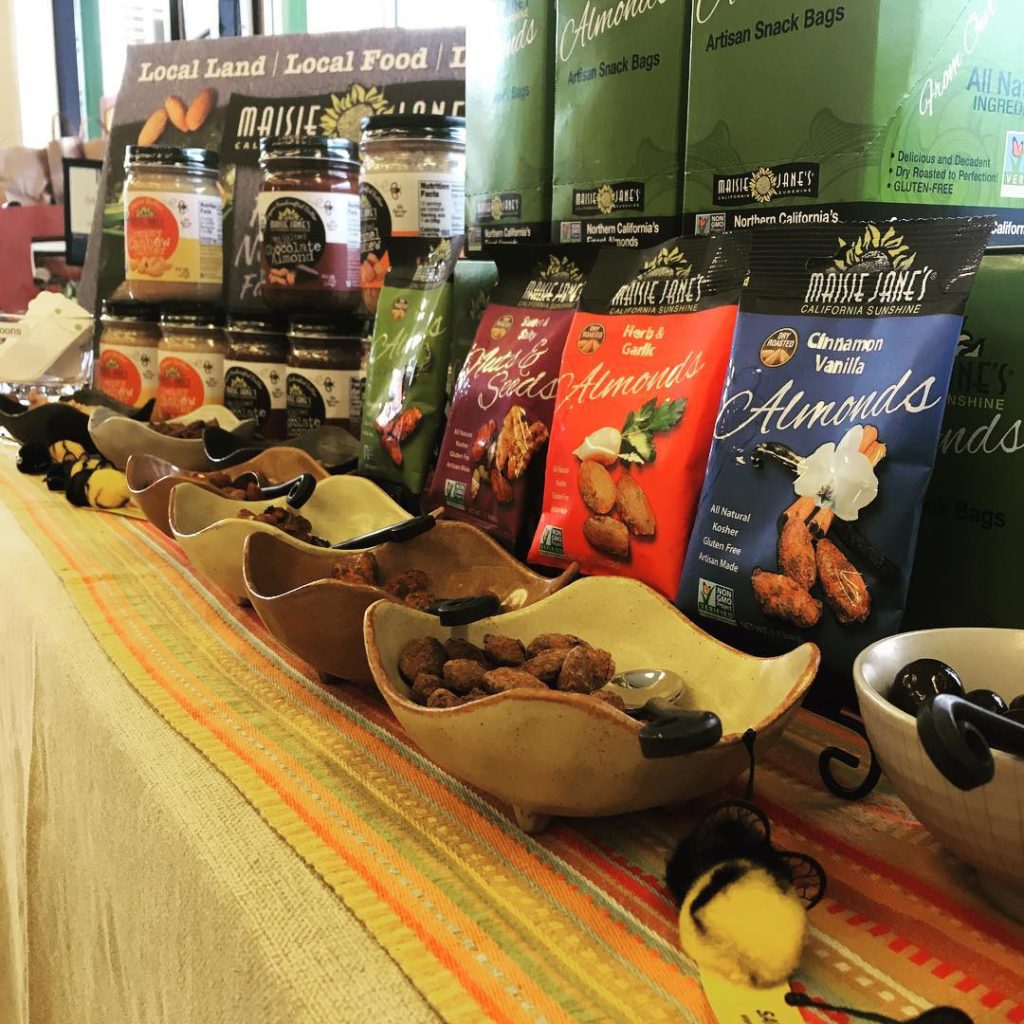 If you haven't tried one of our perfectly sized and deliciously flavored snack packs, you're in for a treat! We have four wonderful flavors inspired by our very own family favorites including traditional cinnamon, tamari and country herb & garlic. And if you buy a 6-pack, you'll get a FREE SURPRISE BONUS BAG of another flavor to try something new!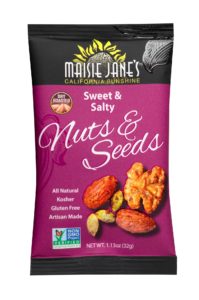 My favorite is this combination of salty and sweet! And we think you'll love it, too. Savor the flavor of slow oven-roasted almonds and walnuts with pumpkin seeds in a delicious blend of spices and natural cane juice.
Ingredients: Dry-Roasted California Almonds, Egg Whites, Walnuts, Pumpkin Seeds, Dehydrated Cane Juice, Organic Tamari Sauce, Sea Salt, Chili Pepper, Tumeric, Cumin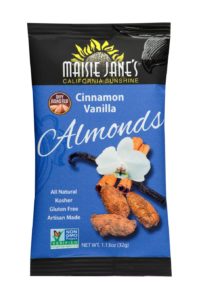 Lightly sweetened but not too sweet, these yummy slow roasted almonds are dusted in cinnamon and drenched with pure vanilla. We think they're pure health-nut heaven.
Ingredients: Dry-Roasted California Almonds, Dehydrated Cane Juice, Egg Whites, Cinnamon, Vanilla, Nutmeg, Allspice, Sea Salt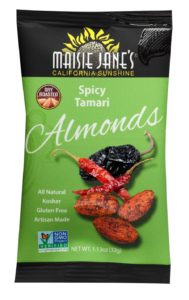 Smoky and salty, crunchy and hot! Heat up your taste buds with our Spicy Tamari almonds— a long time favorite recipe in a handy and convenient, just enough to keep you satisfied, snack pack size.
Ingredients: Dry-Roasted California Almonds, Organic Tamari Sauce, Cayenne Pepper, Chili PepperP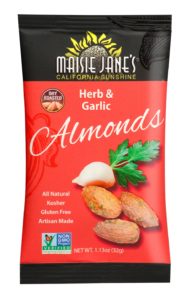 Almonds tossed in fresh garlic and herbs could not be more Italian! Staying true to tradition and old family recipes, these tasty nuts are perfect for lunches, salad toppers, and eating by the handful.
Ingredients: Dry-Roasted California Almonds, Egg Whites, Dehydrated Cane Juice, Granulated Garlic, Parsley, Garlic SaltP
---
Maisie Jane's California Sunshine Products, Inc. was founded on strong beliefs and passion for offering unique, flavorful, top-quality, nut products. We strongly believe in earth-friendly practices that start on our family-owned and operated orchards. We use organic farming practices and continue in the process by using all-natural ingredients with no preservatives or GMOs. We believe in honest, friendly and helpful customer relations at all levels. We take pride in every task, every day, with every person.