Kick Start Your New Year Health Goals With a Winter Kale Salad [Recipe]
Posted on : January 13th, 2017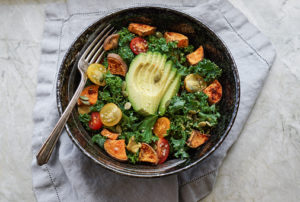 The holidays have come and gone, which means if you're like a lot of people, you're sick of all the sweet treats and starting to think about eating healthier as you welcome the new year. Many people this time of the year are looking for healthy recipes to kick start a healthier diet, and we have a new one for you: Winter Kale Salad with Almond Butter Dressing.
Whether you make this for lunch or dinner, it's sure to leave you feeling full and satisfied. With ingredients like kale, butternut squash, sliced almonds, and almond butter, this is one healthy salad that is anything but boring. Bursting with flavor and texture, it will delight your taste buds and your health goals. Adapted from In It 4 the Long Run, give this delicious recipe a try!
Recipe type: Lunch or Dinner
Cuisine: Vegetarian
Serves: 1 – But you can easily double or triple this recipe to serve at larger gatherings
Ingredients
For the Salad:
*Add a little extra if you like more crunch in your salad!
For the Dressing:
*For a thinner texture, add more water
Instructions
To Cook Squash:
Preheat oven to 400ºF
Peel and cube butternut squash
Toss in 1 tablespoon of olive oil with salt and pepper to taste
Place on a greased baking tray and bake for 20 minutes, take squash out and flip it over then bake for another 15 minutes until tender, but not burnt
To Sauté Kale:
Massage kale to break up fibers and tear apart the leaves
Sauté over medium heat with 2 teaspoons of olive oil for approximately 7 minutes, until kale is somewhat wilted
To Make Dressing:
Whisk together a ¼ cup of almond butter, ¼ cup of olive oil, 1 tablespoon of tahini, 2 tablespoons of warm water, and salt and pepper to taste
Leftover dressing can be stored in the fridge for up to 2 weeks
To Assemble Salad:
Toss together sautéed kale, 1 cup of roasted butternut squash, sliced almonds, and pomegranate seeds with 1-2 tablespoons of almond butter dressing (depending on how heavily you want it dressed). Top with avocado slices.
Not only do we love this recipe for all the health benefits of its fresh produce ingredients, but also for the health benefits that our Maisie Jane's Smooth Almond Butter has to offer. Our almond butter is made from 100% dry roasted almonds, with no other ingredients! It has no cholesterol and is less fattening than peanut butter. It's kosher certified, gluten free, wheat free, vegan and sugar-free. Order your smooth almond butter in our online store.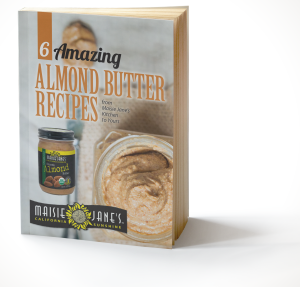 Maisie Jane's California Sunshine Products, Inc. was founded on strong beliefs and passion for offering unique, flavorful, top-quality, almond products. We strongly believe in earth-friendly practices that start on our family owned and operated orchards. We use Organic farming practices and continue in the process by using all natural ingredients with no preservatives or GMOs. We believe in honest, friendly, and helpful customer relations at all levels. We take pride in every task, every day, with every person.