When Almond Hulls Split
Posted on : July 25th, 2019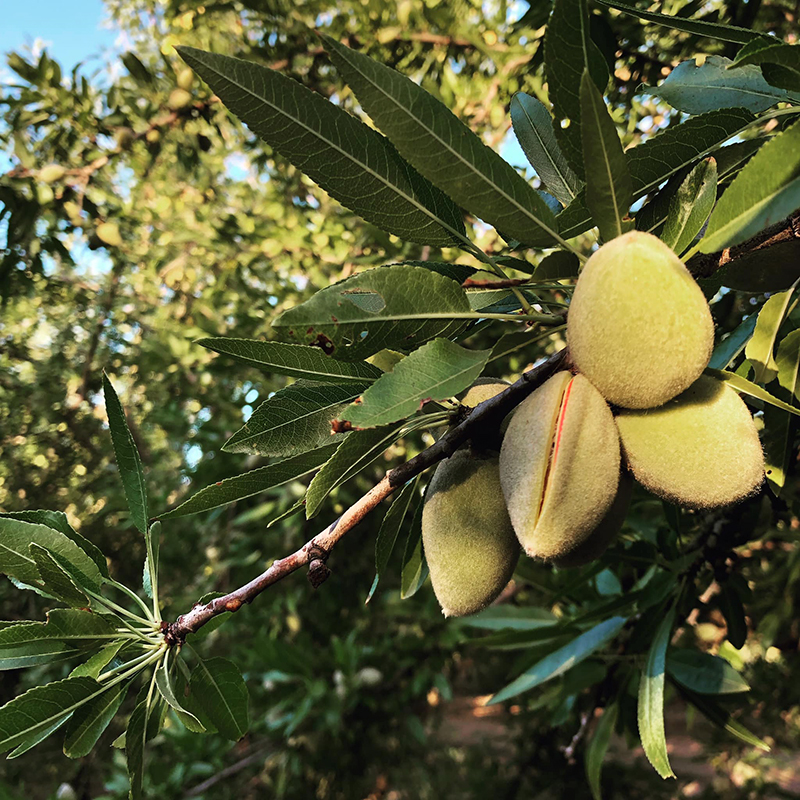 We're seeing our first hull splits! That means harvest time is on its way!
Really? Well, not right away, but splits in July indicate a phase in the lifetime of the almond that lets us know that things are proceeding at a good pace.
After almond bloom season in February and March, almond fruits start to form on the tree branches. What we call the almond "nut" is actually the kernel inside the pit of the fruit. You can eat almond fruits when they're still green. But the season for that is quite short and we far prefer to leave those fruits alone so the nuts inside can fully mature.
Throughout the spring and early summer months, the fuzzy green fruit changes in color as it starts to dry. Then in mid-July to mid-August splits start to form. At this point, they're just a deep crease that is just beginning to separate a little on the side. But after a few weeks, those splits should separate and open up to allow the almond shells to be exposed to the air. They need that exposure in order to dry. Eventually the almond hull (what used to be the fruit), dries, turns brown and opens almost completely. The nuts inside will be plainly visible at that point in time.
When 95-100% of the hulls are split open, it's harvest time! Our favorite time of year.
Celebrate early with natural unsalted almonds and roasted almonds from Maisie Jane's!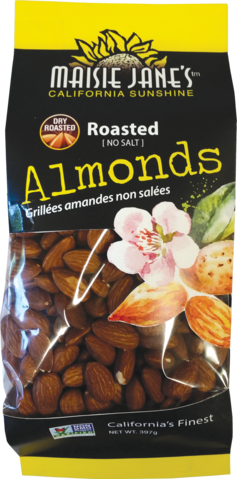 Our top quality whole natural Nonpareil variety California almonds are Non-GMO Project verified, Kosher certified, gluten-free, wheat-free, vegan, and packaged in a plant that does not process peanuts. Our roasted almonds are dry roasted to perfection using no oils—just the natural goodness of the nuts themselves. Take a bag with you on your next camping trip, keep them on your desk at work, or add some to your child's backpack so they always have a nutritious snack choice wherever they go.
---
Maisie Jane's California Sunshine Products, Inc. was founded on strong beliefs and passion for offering unique, flavorful, top-quality, nut products. We strongly believe in earth-friendly practices that start on our family owned and operated orchards. We use Organic farming practices and continue in the process by using all-natural ingredients with no preservatives or GMOs. We believe in honest, friendly and helpful customer relations at all levels. We take pride in every task, every day, with every person.