What's New in the World Of Almond Butter? Chocolate!
Posted on : March 6th, 2018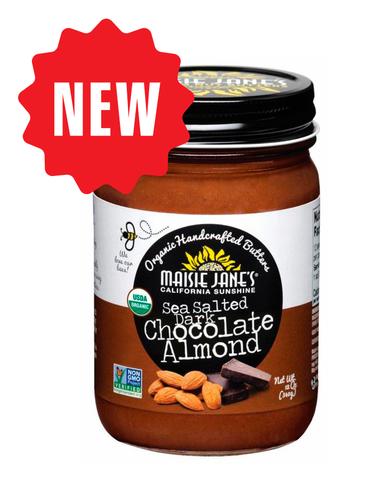 Maisie Jane's new Organic Sea Salted Dark Chocolate Almond Butter is a sensation! And you simply have to try some.
We start with our delicious smooth Organic Almond Butter, bursting with flavor because it is made from 100% dry roasted almonds, with no other ingredients! It's probably our most popular food product already but imagine it combined with rich silky premium organic dark chocolate. Locally made and superior in quality, this is an amazing taste treat in itself. But then we take it even further with the addition of another local product, Lundberg Farms Organic Brown Rice Syrup, for just the right amount of sweetness and add just enough fancy sea salt to create a Foodie delight!
Enjoy this decadent treat by spreading it on crepes, waffles, croissants, scones, fruit, crackers, rice cakes, or eat it simply by the spoonful! Or try one of my favorite treats. Start with your favorite ready-made or homemade waffle. Add a few spoonfuls of yogurt (I recommend full fat Greek Vanilla or plain). Layer your favorite fruits on top (fried bananas, strawberries and blueberries, for example) and drizzle this wonderful Dark Chocolate Almond Butter on top of that. It's an amazing dessert but, truthfully, I have been known to eat it for breakfast as well!
Indulge healthfully! It's certified Organic, Non-GMO Project Verified, Kosher Certified, Gluten Free, Wheat Free, Vegan and made in our plant that does NOT process peanuts.
---
Maisie Jane's California Sunshine Products, Inc. was founded on strong beliefs and passion for offering unique, flavorful, top-quality, nut products. We strongly believe in earth-friendly practices that start on our family-owned and operated orchards. We use organic farming practices and continue in the process by using all-natural ingredients with no preservatives or GMOs. We believe in honest, friendly and helpful customer relations at all levels. We take pride in every task, every day, with every person.