What's Awesome About Cashew Butter
Posted on : May 10th, 2018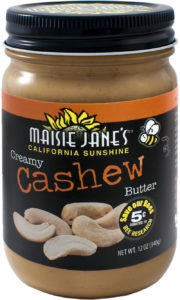 We talk a lot about our almond butters here at Maisie Jane's—after all it is the healthiest nut butter of all! But sometimes we're in the mood for something a little different. So we looked around and fell in love with the cashew and cashew butter!
Cashews are really good for you. At 5.6 grams of protein per serving and more iron, copper and phosphorus than peanuts, cashew butter can add some great nutrition to a person's diet. And all the fat in cashew butter is heart-healthy unsaturated fat so it gives you the satisfaction you need without the damaging saturated fats you might find in other protein-laden foods.
Cashews are also one of the most popular and delicious-tasting nuts! They're soft, naturally somewhat sweet, and make the mildest tasting nut butter. That means a couple of things: 1) it's a great alternative to dairy and can be used as a replacement for butter, milk or cream in all sorts of recipes (making it GREAT for a vegan diet!) and 2) it allows you to mix in a lot of different ingredients and flavors that don't necessarily stand up to the stronger taste of peanuts or almonds. Think: versatility in the kitchen and lots of fun sneaking nutrition into a variety of tasty treats like Cashew Butter Paleo Fudge!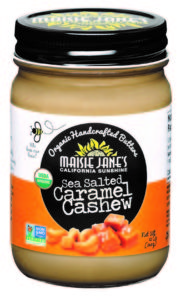 We now sell three different kinds of cashew butter: our naturally sweet, all-natural Creamy Cashew Butter made from nothing but wholesome and delicious dry roasted cashews, our Organic Cashew Butter made the same way but 100% organic, and our absolutely amazing  Organic Sea-Salted Caramel Cashew Butter which is a blend of sea salt, brown rice syrup, and organic dry roasted cashews. All of them are Non-GMO Project Verified, Kosher Certified, Gluten Free, Wheat Free, Vegan and made in our plant that does NOT process peanuts. And they're, oh, so good!
---
Maisie Jane's California Sunshine Products, Inc. was founded on strong beliefs and passion for offering unique, flavorful, top-quality, nut products. We strongly believe in earth-friendly practices that start on our family owned and operated orchards. We use Organic farming practices and continue in the process by using all-natural ingredients with no preservatives or GMOs. We believe in honest, friendly and helpful customer relations at all levels. We take pride in every task, every day, with every person.