What Could We Do with Almond Hulls?
Posted on : October 16th, 2018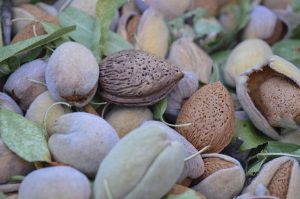 Did you know that for every pound of almonds produced we're also left with two pounds of almond hulls? That adds up to about 40,000 tons produced in California each year—an enormous amount of potential debris! Luckily, there are many uses for almond hulls. For example, ground hulls are rich in sugar, nutritious minerals and fiber that add value to dairy cow feed and have been used for that purpose for at least fifty years. It can also be used in biofuel production, for making stronger plastics, as a growing medium for specialty mushrooms, and as sugary base for beer-making, brandy, tea and hard cider.
One use that is still in the early research phase could, potentially, have great use for organic farming and it might even contribute to research that could save the planet from global warming!
Okay, that sounds like a stretch. But a huge factor in climate change is how much carbon conventional farming is throwing into the atmosphere. According to the Food and Agriculture Organization of the United Nations (FAO) conventional agriculture is responsible for 18% of the total release of greenhouse gasses around the globe—that is more than the amount caused by transportation! Organic almond production, however, has a fairly light carbon footprint. And, according to Alissa Kendall, Associate Professor of Civil Engineering at the University of California, Davis, if the research being done with almond hulls right here in Butte County proves fruitful, California's almond production could eventually become carbon neutral or carbon negative. That means it could actually pull carbon OUT of the atmosphere and into the soil, REDUCING greenhouse grasses contributing to global warming!!!
The key to this is a process known as biosolarization. Biosolarization is an all-natural approach that uses specific types of organic matter (such as almond hulls and shells), water, tarps, and the warmth of the sun to deplete the soil of oxygen, to kill soil pests without the use of fumigants or pesticides. Christopher Simmons, PhD, researcher at UC Davis, is spearheading a research initiative in this approach funded by Almond Board of California's (ABC) Almond Biomass Working Group. Initial results produced wonderful smelling compost and promising possibilities according to a local farmer participating in the study. But that compost has to be tested to make sure that beneficial microbes are not also being killed off. Preliminary tests are currently underway and are expected to be presented at this year's Almond Conference in Sacramento, CA in December.
We'll be staying tuned!
---
Maisie Jane's California Sunshine Products, Inc. was founded on strong beliefs and passion for offering unique, flavorful, top-quality, nut products. We strongly believe in earth-friendly practices that start on our family owned and operated orchards. We use Organic farming practices and continue in the process by using all-natural ingredients with no preservatives or GMOs. We believe in honest, friendly and helpful customer relations at all levels. We take pride in every task, every day, with every person.