What Are You Getting at Maisie Jane's for Mother's Day?
Posted on : May 4th, 2019
I know I'm going to be tempted by the beautiful scarves, jewelry and wonderful array of gifts for Mother's Day at Maisie Jane's gift shop this year. And I'm sure my mother would love any of the wonderfully scented hand lotions, cosmetics, soaps and other toiletries available right now. She might even go ga-ga over the gorgeous ceramics and decorative items the shop is currently featuring.
But I know what my mom really wants: a beautifully decorated gift basket filled with a fun array of wonderful treats! And Maisie Jane's is THE place for gift baskets. We have so many gift baskets, I'm sure you'll be able to find something she'll love. But how will you choose which one? Let me point you in the direction of some of our most special selections.
Gift Baskets to Make Your Mom Feel Like a Queen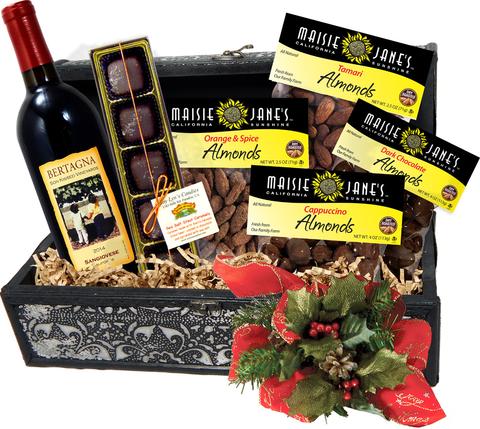 CHOCOLATE! Could there be anything mom would like better? How about chocolate and wine with some some delicious savory flavored nuts to go with it? I'm going to send my mom to Cloud Nine! Or, more precisely, I'm going to help her go there with a Cloud Wine gift basket. First of all, I know she'll love the beautiful wood box with pressed-tin accent it comes in. She'll be able to keep that and use it to store some special items or even put a few of her potted plants inside to make a decorative accent in her home. But what's inside already is what's really going to make her day: a bottle of Bertagna Son Kissed Vineyards Sangiovese wine, Joy Lynn's award winning Hop Salt Stout Caramels (her absolute favorite!), Maisie Jane's Tamari Almonds, Orange and Spice Almonds, Dark Chocolate Almonds, and Cappuccino Almonds. She'll love it all!
More Great Gift Ideas
Of course, there are SO MANY other ways to go. Check out the selection in our online store. But I'd still like to point you in the direction of some really special possibilities.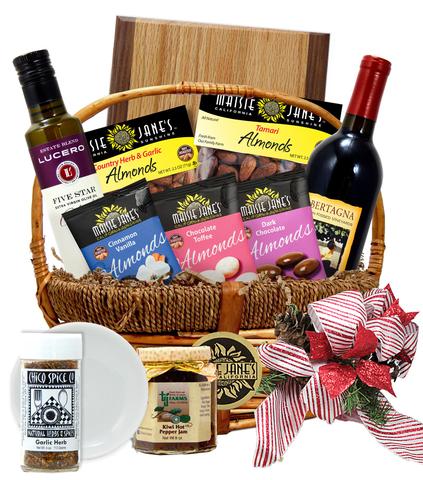 Another choice I'm quite tempted by for my mom is our Inspired Chef Basket. Why? Well, for one thing, it comes in the prettiest country basket I've ever seen. My mom will love that on its own. But it also features a custom made Bob Mabry Cutting Board with dipping dish (I want one of those!), Triple Play Estates Grown Extra Virgin Olive Oil, Triple Play Traditional Balsamic Vinegar, Bertagna Son Kissed Vineyards Barbera wine, T.J. Farms Kiwi Pepper Jam, Maisie Jane's Tamari, Country Herb & Garlic, Dark Chocolate, and Chocolate Toffee Almonds. If your mom loves to cook, she'll be delighted.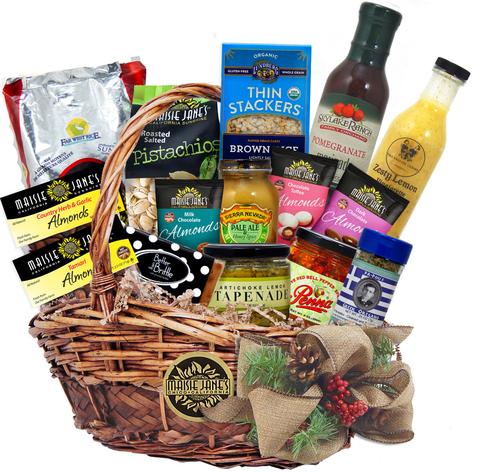 Does your mom particularly love gourmet treats? Especially local ones from Northern California? Then you can't go wrong with our Taste of Nor Cal gift basket! Another attractive and beautifully decorated country basket is filled with an array of favorite foodie offerings from the local area: Far West Rice, Lundberg Farms Thin Stackers Rice Crackers, Lucero Artichoke Lemon Tapenade, Two English Ladies Zesty Lemon Vinaigrette, Penna Olive Red Bell Pepper Spread, Sky Lake Ranch Pomegranate Marinade, Sierra Nevada Mustard, Pa-Pau's Greek Oregano, Maisie Jane's bulk bag Roasted Salted Pistachios, Country Herb & Garlic Almonds, Tamari Almonds, Chocolate Toffee Almonds, Dark Chocolate Almonds, and Milk Chocolate Almonds.
Come down to Maisie's Jane's gift shop to find the perfect gift for Mother's Day. Or buy your mom a gift card so she can get exactly what she wants online!
---
Maisie Jane's California Sunshine Products, Inc. was founded on strong beliefs and passion for offering unique, flavorful, top-quality, nut products. We strongly believe in earth-friendly practices that start on our family-owned and operated orchards. We use organic farming practices and continue in the process by using all-natural ingredients with no preservatives or GMOs. We believe in honest, friendly and helpful customer relations at all levels. We take pride in every task, every day, with every person.