West African Soup…With an Almond Butter Twist [Recipe]
Posted on : August 7th, 2017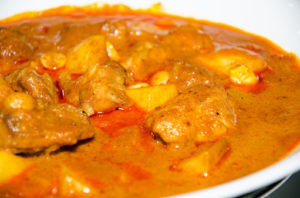 Have you been dying to travel the world and try cultural meals everywhere you go? Sushi from Japan, fish chowder from Bermuda, crêpes from France, and poi from the Solomon Islands?
Here, all the way from Africa is West African Peanut Soup…with a twist!
This dish, commonly known as Maafe, originated in Mali and is a great hearty meal as it's loaded with meat, potatoes, and almond butter. It's served hot and holds a kick with a blend of spices and peppers.
What's our twist? Replacing peanut butter with Maisie Jane's almond butter for a slightly healthier upgrade. Almond butter contains less sugar, and more vitamin E, but the change in flavor is unnoticeable!
In order to bring that taste of Africa to your kitchen, check out the original recipe at Immaculate Bites to find the instructions and even conversions for larger and smaller portions. You'll need the following:
Ingredients
¼ cup oil or more
1-2 lbs. beef or chicken
1 tsp. smoked paprika
½ tsp. white pepper
2 fresh tomatoes chopped
1 medium onion (chopped & divided)
3-4 garlic cloves
2-3 tbsp. parsley
½ cup ground almonds or almond butter paste
3-4 cups broth chicken or beef
1-2 lbs. vegetable potatoes & carrots
1 whole scotch bonnet or habanera pepper, or ½ tsp. cayenne pepper (optional)
Salt and pepper (to taste)
This recipe is sure to be a fall favorite on your dinner table. The beauty is you can add or subtract ingredients to make it your own – you can even make it vegan by taking out the protein and adding more spices. Once you're done, sit back, relax, and travel to West Africa with every mouthwatering bite.

Maisie Jane's California Sunshine Products, Inc. was founded on strong beliefs and passion for offering unique, flavorful, top-quality, nut products. We strongly believe in earth-friendly practices that start on our family owned and operated orchards. We use Organic farming practices and continue in the process by using all natural ingredients with no preservatives or GMOs. We believe in honest, friendly and helpful customer relations at all levels. We take pride in every task, every day, with every person.