We Scream for Pistachios!
Posted on : July 21st, 2020
Have you ever wondered why pistachio nuts are green inside?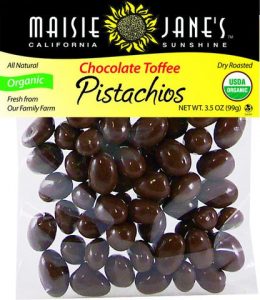 It's because they contain chlorophyll, the same component found in leafy greens. Goodly green chlorophyll is what helps plants get energy from the sun, which in turn helps them grow and become yummy food for us. So when your family rebels against eating their veggies, offer them some pistachios. We love them covered in dark chocolate, but they are also quite delicious on their own.
When I was a kid, pistachios were usually dyed red, to make them look prettier (and cover any blotches on their shells).
While that's festive, it's not necessary and in fact, might not be so healthy. Of course, Maisie Jane's pistachios, grown right here in California, come to you without any food coloring, just as nature made them; and just a whisper of salt, because…salt!  
With this being summer, our thoughts turn to ice cream…
One of my favorite flavors is—you guessed it—pistachio! I was so excited to find this delicious Dairy-Free Pistachio Ice Cream recipe from The Unconventionable Baker, which they graciously agreed to share with us. Creamy and rich-tasting, vegan and free of refined sugar, enhanced with fruits and vegetables like banana, avocado and spinach, this is a great dessert for those on paleo diets and for the lactose-intolerant. (And if you don't mention to your kids that spinach was involved, they will eat their greens and no one shall be the wiser.)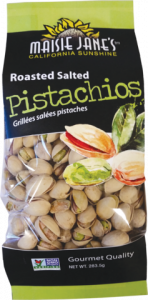 While this recipe calls for raw pistachios, we substituted our own lightly-salted, gourmet-quality roasted pistachios; it came out amazing!
_______________________________________
Maisie Jane's California Sunshine Products, Inc. was founded on strong beliefs and passion for offering unique, flavorful, top-quality nut products. We embrace earth-friendly practices that start on our family-owned and operated orchards. We use organic farming practices and continue in the process by using all-natural ingredients with no preservatives or GMOs. We believe in honest, friendly and helpful customer relations at all levels. We take pride in every task, every day, with every person.