Vegan Waffles with Fruit & Chocolate Hazelnut Drizzle [Recipe]
Posted on : July 21st, 2017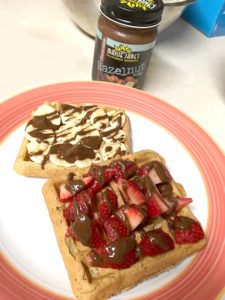 Imagine a weekend morning with the sweet scent of waffles wafting through the kitchen. The smell tantalizes your taste buds and is enough to get the family up and out of bed for a delicious morning breakfast together. And with sides of fruit like bananas, strawberries or blueberries, and Maisie Jane's Chocolate Hazelnut Butter drizzled on top, everyone can make their waffle unique. If you have someone with a special diet sitting around your breakfast table, this recipe is vegan too!
Inspired by Food Network's "Applesauce Waffles"
Ingredients:
3 cups flour
2 tsp baking powder
1 ½ tsp baking soda
½ tsp salt
2 ¼ cup almond milk
½ cup applesauce
Fresh fruit (slices of banana, strawberry, etc)
Maisie Jane's Chocolate Hazelnut Butter
½ tsp cinnamon
¼ cup brown sugar
3 tbsp oil (coconut or vegetable)
½ tsp vanilla
1 flax egg (1 tbsp flax + 3 tbsp water)
Instructions:
Preheat your waffle iron.
Mix flour, baking soda, baking powder, salt, and cinnamon in a bowl. In a separate bowl, mix brown sugar, oil, almond milk, vanilla, applesauce, and the flax egg. Combine the wet and dry ingredients and let it sit for 5 minutes.
Use an oil spray to make sure your batter doesn't stick, and use a heaping ¼ cup of batter on each section of the waffle iron.
Freeze leftovers for a quick toaster defrost in the morning, or eat them hot topped with fresh fruit and drizzled with Maisie Jane's Chocolate Hazelnut Butter.
Makes approximately 10-15 waffles
Maisie Jane's Chocolate Hazelnut Butter was created with having the 'hazelnut' shine and not be overly sweet. Dry-roasted hazelnuts is the number one ingredient. Our Chocolate Hazelnut Butter contains far less sugar than the competing brands. No added emulsifiers or preservatives. It's just pure and simple deliciousness!
This recipe is a delicious way to start your day. By making extra and sticking them in the freezer, you can enjoy a quick and delicious toaster waffle on your way to work and school too.
Maisie Jane's California Sunshine Products, Inc. was founded on strong beliefs and passion for offering unique, flavorful, top-quality, nut products. We strongly believe in earth-friendly practices that start on our family owned and operated orchards. We use Organic farming practices and continue in the process by using all-natural ingredients with no preservatives or GMOs. We believe in honest, friendly and helpful customer relations at all levels. We take pride in every task, every day, with every person.