Vegan Chocolate Ice Cream Recipe
Posted on : September 2nd, 2019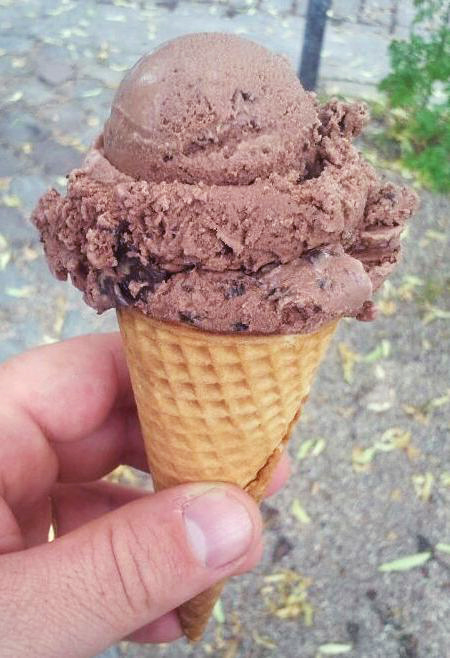 Summertime is ice cream time but what if you can't (or don't want to) eat dairy? Maisie Jane's award-winning Cashew Butter to the rescue! Yes, I did say "award-winning." Our smooth and creamy, naturally sweet cashew butter was voted "Best" by a Good Housekeeping Magazine taste test this past February!
Have you tried cashew butter yet? It's a wonderfully versatile nut butter that can be used exactly like almond or peanut butter in a wide variety of dishes. But because it is the mildest tasting of all nut butters it makes a great substitute for dairy in vegan recipes that would usually call for milk or cream. It is a great source of protein, vitamins and minerals and has just the right combination of natural sugars and fats to mimic the flavor you might miss from other dairy substitutes. And that's exactly what it is used for in this chocolate ice cream recipe.
Normally I shy away from offering ice cream recipes on The Nut Blog. I don't like to recommend anything that requires specialized equipment like an ice cream maker that only a few people have in their home. But this recipe does not require an ice cream maker! It achieves the texture you expect in ice cream from the carefully selected ingredients.
I do recommend, however, that you take the time to mix the ingredients really well using a blender or food processor. You'll also get the best results by using a shallow pan, like a cake pan, to pour your ice cream into instead of a deep container. It makes it easier to freeze evenly and get the uniform texture we expect in good ice cream. Also, make sure to cover the ice cream with plastic wrap when you put it in the freezer—make sure the wrap touches the ice cream— to prevent contact with air that might encourage ice crystals to form.
The recipe calls for two frozen bananas so be sure to pop those in the freezer ahead of time if you don't have them available already. Otherwise, this is a super easy recipe! Just mix everything in the blender, pour into your container, wrap with plastic and freeze at least 4 hours. Let it sit on the counter for 5 minutes before serving. Wrap it back up and put back in the freezer right away if you have any leftovers. It should keep at least a week.
Vegan Chocolate Ice Cream
Ingredients
1 cup soy, almond or coconut milk non-dairy yogurt, vanilla-flavored
2 frozen bananas
3 tablespoons of cocoa powder, unsweetened
½ of a ripe avocado (Hass is preferred if you have a choice)
optional: any choice or combination of chocolate chips, nuts, cinnamon, or coconut flakes to mix in
optional toppings: chocolate sauce, berries, whipped cream, etc.
Preparation
Blend all ingredients except for optional ones in your blender or food processor until smooth. Mix in any optional ingredients you prefer. Pour into a shallow container, cover well with plastic wrap, and freeze at least 4 hours.
Allow ice cream to sit on the counter for 5 minutes when you are ready to serve it. Serve using an ice cream scoop dipped into lukewarm water between servings. Add any additional toppings you wish and enjoy!
---
Maisie Jane's California Sunshine Products, Inc. was founded on strong beliefs and passion for offering unique, flavorful, top-quality, nut products. We strongly believe in earth-friendly practices that start on our family owned and operated orchards. We use Organic farming practices and continue in the process by using all-natural ingredients with no preservatives or GMOs. We believe in honest, friendly and helpful customer relations at all levels. We take pride in every task, every day, with every person.