Vanilla Almond Butter Cake
Posted on : October 1st, 2020
It's the end of September and we all know what that means…fall is officially here! We love fall not only because it means harvest time, but also sweaters, crunchy leaves, crisp air, and all the wonderful autumn recipes our hearts desire. Even better, almonds go with just about any fall recipe in our humble opinion. Sweet, savory…sweet AND savory! But, the number one reason we love fall here at Maisie Janes, is because it means we are that much closer to the holiday season and being around our loved ones.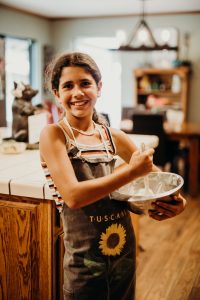 Today's recipe is brought to you by one of our favorite (and cutest) bakers to share the kitchen, Maisie's youngest daughter, Lilia! If you're having a sweet craving but want something on the lighter side, this cake is for you! We've also added our very own Cinnamon Vanilla covered almonds on top for that perfect crunch. 
Almond Butter Cake:

Ingredients:
1 tsp

pure vanilla extract
Instructions:
Preheat oven to 350°F. Coat Pans with a thin layer of Butter & Flour.
In mixer bowl, cream butter and sugar until light and fluffy. Add eggs one at a time, mixing well after each addition. Mix in vanilla and almond flavor. Mix flour with baking powder and salt. Add flour mixture alternately with milk, starting with the flour; mix well. Pour into prepared pans.
Cook until Toothpick inserted in center comes out clean or very few crumbs. (Varies upon taste preference)Cool 10 minutes in pan. Loosen sides and remove. Cool completely before decorating
Almonds Butter Frosting:
Ingredients:
1

 

cup

 

butter

 

room temperature

1

 

cup

shortening

2

 

pounds

confection sugar

1 1/2

 

tbsp

 

hot water

2

 

teaspoons

almond extract
Instructions:
Place the butter and shortening together in the bowl of your mixer. Mix them together on medium speed until they are nice and creamy.

Turn the mixer down to the lowest setting and slowly incorporate the powdered sugar into the shortening mixture. Once you have added all the sugar to the mix pour in the hot water and the almond extract.

Turn the mixer up to medium-high speed and continue mixing for 10 minutes until light and fluffy.
No matter what it may look like this year, grab your favorite loved one to bake with and try this delicious recipe!
Maisie Jane's California Sunshine Products, Inc. was founded on strong beliefs and passion for offering unique, flavorful, top-quality nut products. We embrace earth-friendly practices that start on our family-owned and operated orchards. We use organic farming practices and continue in the process by using all-natural ingredients with no preservatives or GMOs. We believe in honest, friendly and helpful customer relations at all levels. We take pride in every task, every day, with every person.