Town & Country Basket Fuels Large Groups With Big Flavors
Posted on : December 6th, 2016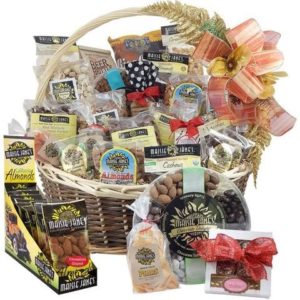 Looking for a festive and delicious gift for a large group of people this holiday season? Look no further! At Maisie Jane's, we have large quality gift baskets that are filled with a huge variety of sweet and savory nuts and treats. There's something here for everyone, which is essential for large group gifts!
Perhaps you're the boss of a large staff—Have you considered doing something special for your staff this holiday season? Consider picking up a beautiful gift basket filled with tasty yet healthy snacks for your office to enjoy.
This is a great way to fuel your staff and help keep them going during those seemingly long work days before the holidays. This is a really sweet way to show some extra appreciation and thoughtfulness, boost morale and bring good cheer to your staff! We especially love our Town and Country Gift Basket, and we think you and your company will too!
Straight from the finest artisan makers of fine foods to the prized people in your life, whether near or far, our Town and Country Basket says it all and will make a lasting impression as the recipients nibble their way through it. Not to mention, this basket gives you the most bang for your buck, filled with nearly 50 individually wrapped items.
Our Town and Country Basket makes a great holiday gift especially for:
Large office staff, companies, organizations, etc.
Business to business
Large families
Large parties and gatherings
Here's what comes in our popular Town and Country Gift Basket:
Sweet 'n' Salty Gift round
Large Chocolate Delight Gift round
2 bags Caramel Corn & Almonds
Roasted Salted In-Shell Pistachios
Pecans
Natural Almonds
Chocolate Cherries
Chocolate Pecans
12 Almond Snack Packs
Red Walnuts
Mint Chocolate Almonds
Milk Chocolate Almonds
Roasted Almonds
Cowboy BBQ Almonds
Dark Chocolate Chipotle Almonds
Organic Dark Chocolate Sea Salt Cashews
2 bags Lundberg Farms Rice Chips
Happy Camper's Toffee
Joy Lynn's Sierra Nevada Beer Brittle
Fancy Chocolate Bark
Better Brittle
Sweet, salty, spicy, and savory—There's a flavor for any craving!
Because this is one of our largest gift baskets, here's just a few highlights from our Town and Country:
Our large "round" holds a generous selection of almonds in a variety of flavors: Tamari, Cinnamon Glazed, Country Herb & Garlic, and Orange & Spice Almonds. Net Wt. 1.5lbs. Set this out on a table for all to enjoy!
Lundberg Farms Rice Chips
Lundberg's healthier-for-you snack options will satisfy more than just your tummy. Give in to those snack cravings with a hearty dose of brown rice! Filled with whole grains plus easy-to-read ingredient lists, gluten-free, and Non-GMO Project Verified seals. You can try these chips with dip or salsa, but they are perfectly satisfying on their own!
Joy Lynn's Sierra Nevada Beer Brittle
With a hint of hops and malt, Joy Lyn's Beer Brittle is a delicious taste of sweet and salty. A peanut brittle made with Sierra Nevada's Pale Ale, each small batch is cooked the old-fashion way—in a large copper kettle, then poured and spread by hand on a warming table. If you've got a sweet tooth, this buttery and delightfully crunchy snack is for you!
So do you have a business or large group in mind who would enjoy our Maisie Jane's almonds, nuts, and treats? We have many gift baskets specially designed with office enjoyment in mind.
There is, of course, our Town and Country Basket, but here are a few other suggestions as well:
Hint: these larger baskets are also great for family gifts. If you need one gift that a whole family can enjoy, you can't go wrong giving a Maisie Jane's Family Fun Gift Basket this holiday season.
Whoever you're shopping for—office or family—look no further! We have amazing, beautiful, and large gift baskets for all your needs. If you're local, swing by our Country Store at 1324 Dayton Road in Chico, California or visit our Online Gift Shop to see all our holiday gift options.