Three Delicious and Easy Ways to Use Cashew Butter
Posted on : June 21st, 2018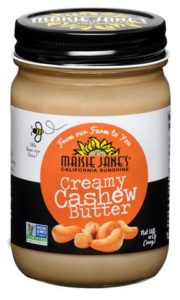 Have you tried our Creamy Cashew Butter or Organic Cashew Butter yet? Almond and peanut butters are the king and queens of the nut butter world—everyone knows how wonderful and versatile they are. So sometimes lesser known cashew butter gets overlooked. But cashews and cashew butter are so good for you and so useful, you really should give it a try. Cashew Butter is milder tasting than other nut butters which means it is a great way to add nutrition to a recipe without overpowering the taste of the other ingredients. Here are a few simple ideas:
Energy Bites!
Sometimes I like a yummy dessert-like snack that's actually good for me (in moderation, of course!) And these are so easy to make. Put 1 ¼ cup old-fashioned oats, 3 tablespoons mini chocolate chips, ½ cup chopped almonds, 1/3 cup honey, ½ cup dried cranberries, and ½ cup cashew butter into a bowl and mix together well. Cool in the refrigerator for 20-30 minutes, then roll into small balls. Chill again until ready to eat.
Salad Dressing!
Mix 1 Tbsp of Cashew Butter with 1 Tbsp Apple Cider Vinegar, 1-2 Tbsp water and 1/4 tsp. salt. Add herbs and spices of your choice. Sometimes I leave out the salt and add a splash of tamari or soy sauce instead.
Cashew Pesto!
You can make this with either spinach, basil or a combination. (I prefer mostly spinach.) You'll need 2 packed cups of spinach or basil, 1/4 cup Cashew Butter, 1/4 cup roasted salted cashews, 1/4 Parmesan cheese, 3 peeled garlic cloves, 2 Tbsp olive oil, 2 Tbsp fresh lemon juice, and 1/2 tsp salt. Put everything except the greens in a blender or food processor. Blend or pulse to combine well. Then add the greens and blend or pulse until it's the way you like it. This makes a great topping for pasta, of course. But I use it far more often in soup (especially variations on minestrone) or as a dip for sliced vegetables.
---
Maisie Jane's California Sunshine Products, Inc. was founded on strong beliefs and passion for offering unique, flavorful, top-quality, nut products. We strongly believe in earth-friendly practices that start on our family owned and operated orchards. We use Organic farming practices and continue in the process by using all-natural ingredients with no preservatives or GMOs. We believe in honest, friendly and helpful customer relations at all levels. We take pride in every task, every day, with every person.