The Wonderful Weird and Delicious Cashew
Posted on : August 30th, 2018
The first time I saw a cashew growing in a garden beside the side of a road in Hawaii, I stopped dead in my tracks. "What on Earth is that crazy looking thing?!!!" There on a very handsome looking tree were bright red and yellow bell-shaped fruits with a bulging curved "bell clapper" like appendage stuck on the bottom. I had never seen anything like it but before I could reach out and touch one to explore further I noticed a sign attached to the tree for tourists: "Caution! Raw cashews are poisonous—do not touch!"
Apparently, cashews are related to poison ivy and have a compound called urushiol, that is similar to what you find in that plant, in the skins of the fruit and exterior shell of the nuts. Once the nuts are roasted, the toxins are destroyed, so have no fear as even cashews labeled as "raw" have to be given a heat treatment of some sort to be safe to eat and, therefore, sell. But can you even imagine how hungry people must have been to risk eating it the first few times?!!!
Today cashews are one of the most popular nuts eaten today. After all, they are delicious! And they're also a wonderful source of nutrition, being high in protein and  healthy fats as well as a good source of the minerals copper, manganese, phosphorus, and magnesium and thiamin, vitamin B6 and vitamin K. Iron, potassium, zinc, and selenium are present in significant amounts.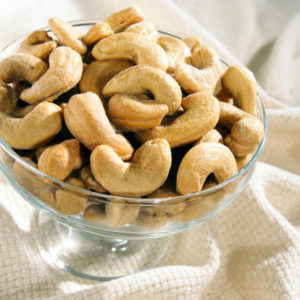 Here at Maisie Jane's you'll find cashews in a variety of forms. I love our Roasted Salted Cashews—I eat them by the handful! But our Organic Curry Spice Cashews are truly an inspiration. Cashews are very popular in Indian cuisine and after you try these, you'll certainly know why! But maybe you have more of a sweet tooth to satisfy? Try our Organic Honey Glazed Cashews! SO good!
And did you know that we now have THREE cashew nut butters: Creamy Cashew Butter (made from 100% dry roasted cashews), Organic Cashew Butter (made from 100% organic dry roasted cashews), and our newest addition: Organic Sea Salted Caramel Cashew Butter (Whoa! Talk about an inspiration!)
All our cashew products are Non-GMO Project Verified, Kosher Certified, Gluten Free, Wheat Free, Vegan  and made in our plant that does NOT process peanuts. Try them all!
---
Maisie Jane's California Sunshine Products, Inc. was founded on strong beliefs and passion for offering unique, flavorful, top-quality, nut products. We strongly believe in earth-friendly practices that start on our family owned and operated orchards. We use Organic farming practices and continue in the process by using all-natural ingredients with no preservatives or GMOs. We believe in honest, friendly and helpful customer relations at all levels. We take pride in every task, every day, with every person.