The Royal Wedding Went Nuts!
Posted on : May 24th, 2018
You don't see something like this every day! Ohio artist Steve Casino got quite the commission recently. He was hired to create tiny replicas of Britain's Royal family painted on almonds and other nuts! Apparently, Casino had previously built a reputation doing miniature portraits on peanuts. He invents toys for a living but one day did a painting on a peanut just for the fun of it. One thing led to another and suddenly he was painting lots of miniatures on food. He once even did a tiny Van Gogh painting on a Tic Tac!
For the Royal wedding Casino branched out into almonds and coconuts mostly. He spent over 362 hours carving and painting tiny portraits of the Queen, Prince Charles, the Duke and Duchess of Cambridge as well as Prince Harry and his new wife Meghan Markle. His process is pretty exacting. First he removes the nuts from the shell. The shells are then sealed with archival urethane and glued back together. He constructs them into figures and carves the features as needed, paints them, and then coats each one in clear acrylic. Most of his portraits take up to 20 hours to do but this project was far more involved. It was commissioned by a UK nut milk company called Plenish.
You can read more about Steve Casino's work and see lots of photos on his website. It's really quite amazing!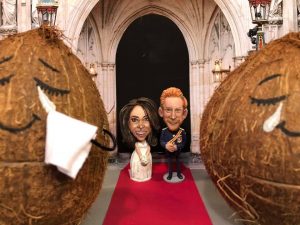 ---
Maisie Jane's California Sunshine Products, Inc. was founded on strong beliefs and passion for offering unique, flavorful, top-quality, nut products. We strongly believe in earth-friendly practices that start on our family owned and operated orchards. We use Organic farming practices and continue in the process by using all-natural ingredients with no preservatives or GMOs. We believe in honest, friendly and helpful customer relations at all levels. We take pride in every task, every day, with every person.