The Best Treats to Add to Your Holiday Stockings
Posted on : December 17th, 2022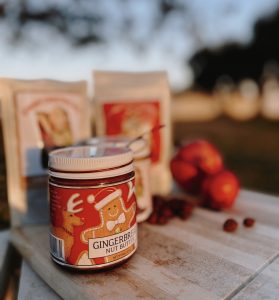 To say this is our favorite time of year would be an understatement. The crisp breeze in the air, the holiday cheer all around, there's nothing else quite like it!
With all the fun activities swirling about, we can find the overwhelm slowly creeping in. We're hoping to help with that overwhelm by giving you a list of the best treats to add to your stockings this holiday season.
Maisie Jane's Chocolate Covered Almonds
These almonds are the perfect sweet treat to stuff those stockings. With the right amount of crunch, and the perfect amount of chocolate, you can't go wrong.
Gingerbread Nut Butter
This Limited-Edition nut butter tastes like holiday cookie dough; but it's healthy! Try it on French toast, croissants, baked muffins, add to your yogurt, spread on fresh apples, or let your imagination run wild!
Cowboy Christmas Butter, Sea Salted Caramel Cashew
Freshly roasted Cashews that are lightly sweetened and blended to a buttery smoothness. Spread on your breakfast breads, or for a sweet & healthy midday snack.
Cowboy Christmas Nuts – Cowboy BBQ Almonds
These oven roasted almonds have an impressive smoky chili flavor giving them a robust taste. The unique glaze coating provides a subtle sweet finish that Santa loves and so will you.

These stocking stuffers are sure to satisfy any sweet or salty tooth!