Thankful to Be Family Farming!
Posted on : November 22nd, 2017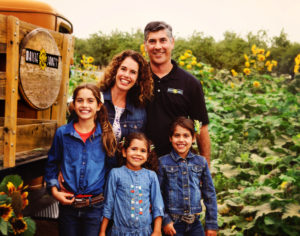 At Maisie Jane's, farming is definitely a family affair—we've been at it for four generations!  And as we look forward to celebrating Thanksgiving, we can't help but be thankful to be family farming together.
What's great about family farming? Where do I begin?!! According to a United States Department of Agriculture study and a variety of census statistics over the years, family farmers typically eat better, live longer and have a happier, more stable family life. Not that we never bicker or disagree with each other, but there is a real joy in raising a family in a country setting, sharing the work, the trials and tribulations and, at times, the overwhelming joy. There's a great comfort in having the support of previous generations whose love, experience and expertise sustain us to this day and deep glorious satisfaction in seeing the results of all our hard work.
But I'm thankful not only on a personal level. I feel proud that what we do not only benefits our family but benefits the land and our community, too! From the farming practices to the manufacturing and packaging, Maisie Jane's is dedicated to offering the healthiest products, both for our planet and for your bodies. Why? Well, we live and work on and eat the produce from our farm so, of course, we want that experience to be as healthy and sustainable as possible. It's good old common sense. That means that we farm without depleting the earth's resources or polluting its environment. We use organic practices, make efforts to work and protect the bees, and even try to use Green energy in the manufacturing and packaging of our products. It's a philosophy of simple goodness from farm to table that we care tremendously about.
Not only that, we feel deeply connected to the community we have lived and worked in for so very long. There's a true link between small family farmers that grow the food in a small community and the people who eat it. You can see our trees as you drive down the road just outside of town and visit with us and our family at our country store as we get to enjoy visiting with you. We share the same delight in the almond trees blooming in spring and the joy of harvest in Autumn. Human hearts and hands work to make the food you eat, not just a corporate label, and human hearts and bellies enjoy it. What a blessing! Happy Thanksgiving!
---
Maisie Jane's California Sunshine Products, Inc. was founded on strong beliefs and passion for offering unique, flavorful, top-quality, nut products. We strongly believe in earth-friendly practices that start on our family-owned and operated orchards. We use organic farming practices and continue in the process by using all-natural ingredients with no preservatives or GMOs. We believe in honest, friendly and helpful customer relations at all levels. We take pride in every task, every day, with every person.