Sweet Potato Almond Chipotle Soup (Recipe)
Posted on : October 28th, 2019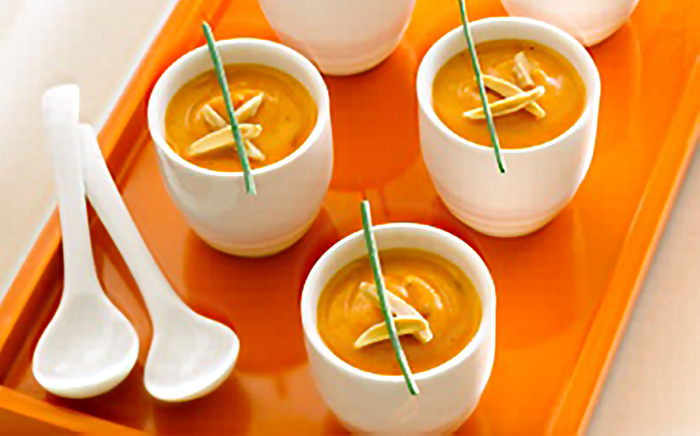 Weather is always a little unpredictable at this time of year in Chico. It seems like it can't decide whether it's summer, winter or fall! Today as I write this blog post, for instance, it is definitely summer! I'm wearing my lightest sundress and have all the windows in the house open. Last week I was wearing a sweater. But on Halloween night I guarantee that, if this year is like most, the temperatures will drop and cool weather will be here at last! And, for me, that means it's soup season! Today's recipe—Sweet Potato Almond Chiptole Soup—is sure to become a new favorite.
This soup is a perfect balance of hot and sweet. It would make a perfect lunch or light dinner with crusty bread and a simple salad. Many thanks to Trish Magwood, the author of the James Beard award-winning cookbook "Dish Entertains" and party dish TV host for providing this recipe to the Almond Board of California.
Sweet Potato Almond Chipotle Soup
INGREDIENTS:
4-5 large sweet potatoes
3 tbsp canola oil or butter
2 medium cooking onions, diced
1/2 cup white wine
1 chipotle pepper in adobo sauce, finely minced, adobo sauce reserved
6 tbsp ground almonds (grind them in a blender or food processor)
6-8 cups vegetable or chicken stock (or water)
1 cup maple syrup (or honey) or to taste (I prefer a little less.)
Slivered or chopped almonds, roasted for garnish
PREPARATION:
Preheat oven to 375°F (190°C).
Line baking sheet with foil before placing whole sweet potatoes on the baking sheet. Then bake until soft when pierced with a knife (over 1 hour). Let cool.
Peel and discard skin and rough chop.
Heat oil or butter over medium heat in large heavy soup pot.
Cook onions 7 minutes stirring often or until translucent. 
Add white wine. When liquid has evaporated, add chipotle and cook 2-3 minutes. 
Add ground almonds. Stir. Add sweet potatoes and stir. Add enough cold stock or water to cover. Turn heat up to medium high. Once boiling, reduce, simmer covered for 15 minutes or until soft.
Remove from heat. Using a hand blender, puree soup until smooth. Stir in maple syrup to taste and season with salt and pepper.
Garnish with roasted slivered almonds before serving.
---
Maisie Jane's California Sunshine Products, Inc. was founded on strong beliefs and passion for offering unique, flavorful, top-quality, nut products. We strongly believe in earth-friendly practices that start on our family owned and operated orchards. We use Organic farming practices and continue in the process by using all-natural ingredients with no preservatives or GMOs. We believe in honest, friendly and helpful customer relations at all levels. We take pride in every task, every day, with every person.