Sweet and Salty Almond Breakfast Bars (Recipe)
Posted on : September 12th, 2019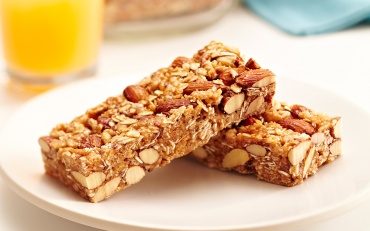 Here's a healthy treat that's easy to take with you if you're running late to work some morning. Pastry Chef Jenny McCoy, of Craft in New York City, created these Sweet and Salty Almond Breakfast Bars for the Almond Board of California. They're filled with tasty and good for you almonds, seeds and almond butter so you get a good blast of protein and fiber in the morning combined with enough sweetness to make it feel like dessert. They're quick and easy to make, too!
Sweet and Salty Almond Breakfast Bars
Ingredients
3 cups rolled oats
4 cups puffed rice (brown rice recommended)
1/4 cup flax seeds
1 1/2 cups Maisie Jane's whole natural almonds
1/4 tsp fine sea salt
1/2 cup light brown sugar
2 tbsp maple sugar (or 2 tbsp light brown sugar)
1/4 cup almond oil (or 1/4 canola oil)
1/4 cup canola oil
1/4 cup plus 2 tbsp honey
Coarse sea salt, for topping
Preparation
Lightly coat a 9"x13" baking dish with non-stick cooking spray.
In a large mixing bowl, gently toss the oats, rice, flax seeds, and almonds to combine.
In small saucepan, combine the fine sea salt, sugars, oils, honey, and almond butter. Bring to a simmer over medium-high heat, whisking any lumps of almond butter smooth, and cook for 2-3 minutes.
Slowly pour the mixture over the dry ingredients while stirring; continue to stir until all of the ingredients are evenly coated.
Transfer the entire mixture to a prepared pan and firmly press into the pan while still warm, taking care to evenly distribute the whole almonds. Once evenly pressed into the pan, sprinkle with 2 to 3 pinches of coarse sea salt and press flat with your hands or a firm spatula. (Don't be afraid to press hard!)
Let cool to room temperature. Cut bars and store in an airtight container up to one week.
---
Maisie Jane's California Sunshine Products, Inc. was founded on strong beliefs and passion for offering unique, flavorful, top-quality, nut products. We strongly believe in earth-friendly practices that start on our family owned and operated orchards. We use Organic farming practices and continue in the process by using all-natural ingredients with no preservatives or GMOs. We believe in honest, friendly and helpful customer relations at all levels. We take pride in every task, every day, with every person.