Sticky Spicy Almond Butter Tofu (Recipe)
Posted on : May 16th, 2019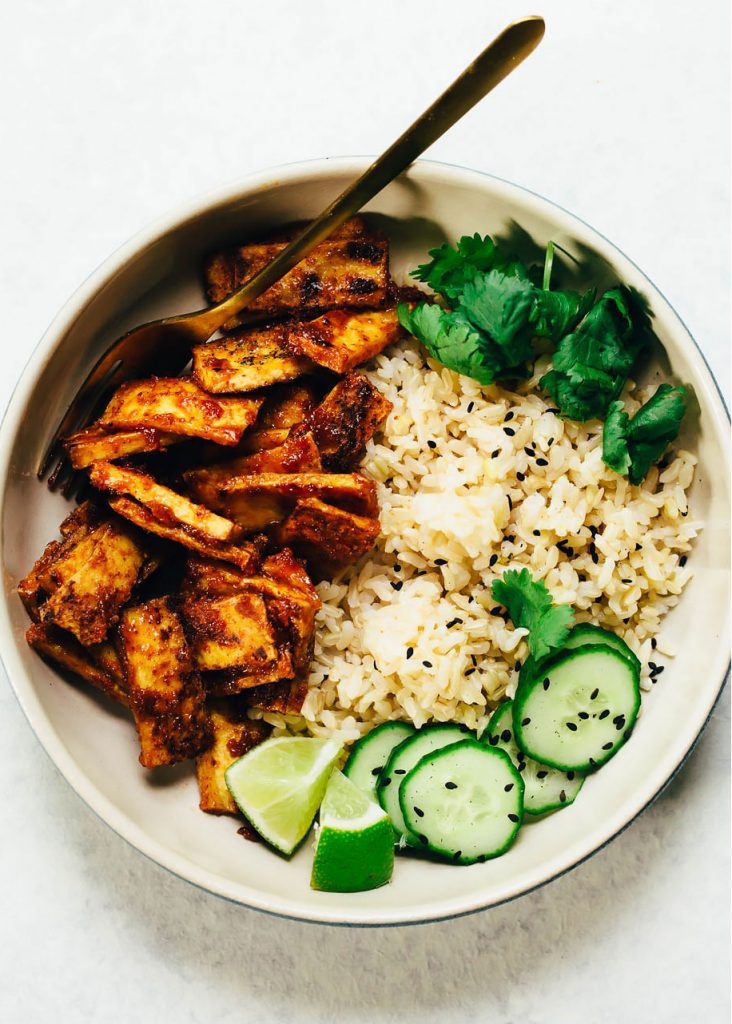 I haven't posted a recipe from Blissful Basil in awhile. But they have a delicious-sounding recipe featuring almond butter right now so I thought this was the perfect time to re-introduce this wonderful resource for vegans and others searching for plant-based, healthy and delicious recipes to add to their diet. And this one for Sticky Spicy Almond Butter Tofu looks like a winner!
Okay, I need to be honest, tofu is not one of my favorite foods. At least not the way it is usually prepared—bland, boring, blech. I usually think of it as a protein additive for vegetarians with the main virtue of soaking up sauce flavors and becoming mercifully indistinguishable from the rest of the dish. But I was oddly tempted by a tofu selection at a Thai restaurant once and was shocked at how delicious it was! Wow, prepared properly, this stuff can actually be GOOD.
Ashley, Blissful Basil's author and the photographer who supplied the photograph on this post, says that the key is working with the texture by pressing the water out of the tofu and dry-frying it. You can press your tofu with a tofu press but all it really takes is wrapping your tofu in several paper towels and placing it on a plate with a heavy pot (a cast-iron skillet, for instance) on top. Leave it for 20-30 minutes (30 minutes is better). Unwrap your tofu, slice it, and add it to your dish.
Dry frying is frying without any oil besides whatever is left from seasoning your pan. Use the cast iron one you used to press your tofu. Sear it on one side for about 3 minutes over high heat once the skillet is very hot. Then flip and sear the other side. You'll also want to press the tofu down with a spatula while it cooks until you hear it sizzle and squeal (as Ashley puts it). Make that tofu squawk! That's the process that turns blech into something a lot more interesting.
While the tofu cooks, blend together the other ingredients listed below to make a delicious sauce. If you don't want to do this at the same time, simply take the finished tofu out of the pan while you make the sauce. Then add the tofu back into the pan with the sauce and toss and cook it briefly — just 30-60 seconds! And it's done—what could be easier than that? You can add this tofu to a wide assortment of rice bowls, stir-fried veggies, salads, put it in a wrap, anything you wish. And feel free to tweak the sauce to make it more or less spicy, more or less tangy. This is a very versatile dish.
Check out the ingredients below and then head on over to Blissful Basil to get the full instructions. She's such a great writer and her photos are SO useful—it's always worth the trip!
Sticky Spicy Almond Butter Tofu
Ingredients
1 (14-ounce) block firm or very firm tofu, drained
3 tablespoons natural almond butter (thoroughly stirred before measuring)
1 tablespoon Sriracha
1 tablespoon pure maple syrup
1 tablespoon tamari
1 tablespoon rice vinegar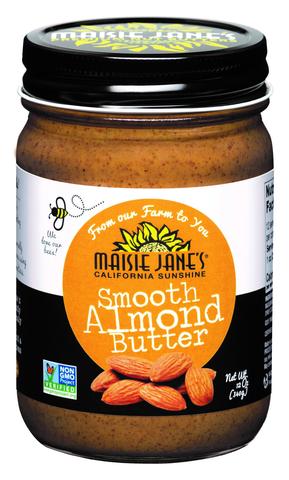 ---
Maisie Jane's California Sunshine Products, Inc. was founded on strong beliefs and passion for offering unique, flavorful, top-quality, nut products. We strongly believe in earth-friendly practices that start on our family-owned and operated orchards. We use organic farming practices and continue in the process by using all-natural ingredients with no preservatives or GMOs. We believe in honest, friendly and helpful customer relations at all levels. We take pride in every task, every day, with every person.