Spread the Love With a Maisie Jane's Gift Basket
Posted on : February 10th, 2017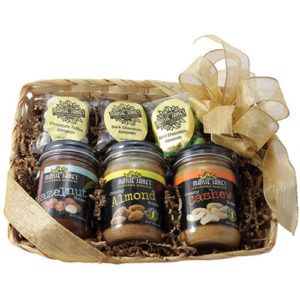 Do you know somebody who is interested in trying various nut butters? Are you looking for a cute basket to keep on your kitchen counter while you entertain guests? There are a variety of ways you can use this Spread the Love basket from Maisie Jane's. Keep on reading to see what delicious products you'll get in this basket to enjoy on bread, with crackers, drizzled over berries, in a smoothie, baking or just by the spoonful.
Here's what's in the Spread the Love flat basket:
Maisie Jane's Crunchy Almond Butter
This crunchy treat is made with one ingredient: almonds. Which means that it is not only delicious, it is good for you too! Great alternative to peanut butter to add to your favorite meals. Take your smoothies, and even your toast to the next level!
Maisie Jane's Creamy Cashew Butter
Want a nut butter that has a unique flavor that is still deliciously and naturally sweet? Then our cashew butter is just for you. Made with only cashews, try this butter because it might be your new favorite.
Maisie Jane's Chocolate Hazelnut Butter
If you like hazelnut butters but would like something that has less sugar and focuses on the natural flavor from hazelnuts and the sweetness from chocolate, then our chocolate hazelnut butter is what you need.
Maisie Jane's Chocolate Toffee Almonds
Want a tasty treat that is bursting with flavor? We start with a dry roasted almond, splash some chocolate on it, then coat it with buttery toffee and top it all off with a nice dusting of powdered sugar. Mmm sounds wonderful, doesn't it?
Maisie Jane's Dark Chocolate Almonds
We only use a superior dark chocolate for this Maisie Jane's product. The rich dark chocolate is coated on the dry roasted California Almonds to create a delectable product that you won't want to stop eating after you start.
Our dry roasted almonds are first given a light coat of chocolate, then the coat of mint joins the chocolate and almonds. If you're looking for a sweet but light treat, then definitely try the mint chocolate almonds.
What are you waiting for? Click here to check out this basket in our store! Trust us, you will be glad that you did.
Maisie Jane's California Sunshine Products, Inc. was founded on strong beliefs and passion for offering unique, flavorful, top-quality, almond products. We strongly believe in earth-friendly practices that start on our family owned and operated orchards. We use Organic farming practices and continue in the process by using all natural ingredients with no preservatives or GMOs. We believe in honest, friendly, and helpful customer relations at all levels. We take pride in every task, every day, with every person.