Spoon University Names Maisie Jane's Nut Butter in Top 5 List [News]
Posted on : January 30th, 2017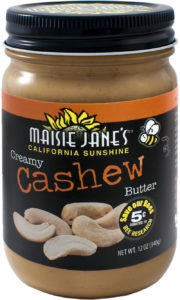 Spoon University, an online food and recipe resource for college students, has named Maisie Jane's Creamy Cashew Butter in its list of top 5 best nut butters. Spoon University invites college students from campuses all over the nation to contribute recipes and articles. Since our nut butters have some amazing health benefits and are a great snack to take on the go, we're excited college students are learning about them and loving the taste of them too.
The Top 5 Best Nut Butters and Their Accompanied Brands
By: Isabel Burton, University of Oregon
Justin's Chocolate Hazelnut Butter
What if I told you that there was a Nutella substitute with 3x less sugar, 3X more fiber, and 10x more flavor. Justin's Chocolate Hazelnut Butter is sweet, nutty, and rich and doesn't taste overly sugary and processed.
This nut butter is best slathered on your morning toast or pancakes, but can also be incorporated into many desserts. Justin's website has a wide range of recipes to drool over.
Maisie Jane's Creamy Cashew Butter
Cashew butter is one of my favorites because it's so buttery and rich. After trying Trader Joe's salted cashew butter, I realized that the salt greatly took away from all the cashew flavour. Maisie Jane's brand is unsalted, smooth, and thick.
What's more, for every purchased 12 oz. jar of cashew butter, Maisie Jane's donates $.05 towards bee research.
While a little more expensive than other nut butters, it's worth the treat every once in a while. I recommend changing your classic PB&J sandwich into a CB&J (it's truly life-changing).
Grocery shopping as a college student can be overwhelming at the least. There are so many options and sometimes it's easiest to stick to the classic Jif, Skippy, or Smuckers. But it's  2017 y'all— time to get adventurous (and a little nutty)!
Whether you're a busy college student, working professional, or stay-at-home parent, save yourself a trip to the grocery store and purchase Maisie's Jane's nut butter online. Then get started making some delicious, yet easy, recipes you can download below.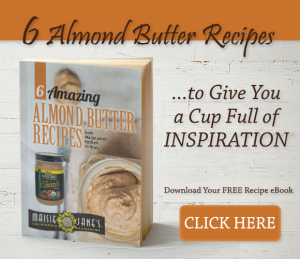 Maisie Jane's California Sunshine Products, Inc. was founded on strong beliefs and passion for offering unique, flavorful, top-quality, almond products. We strongly believe in earth-friendly practices that start on our family owned and operated orchards. We use Organic farming practices and continue in the process by using all natural ingredients with no preservatives or GMOs. We believe in honest, friendly, and helpful customer relations at all levels. We take pride in every task, every day, with every person.