Spicy Gumbo with Almond Butter
Posted on : January 14th, 2020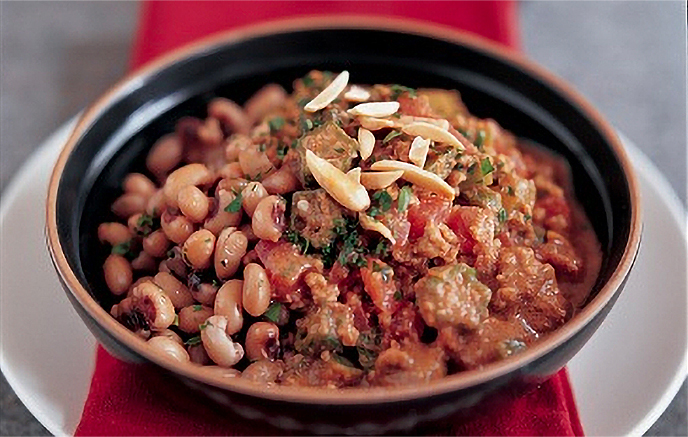 It's stew season! And if you like your stew on the spicy side, you'll love this recipe from New Orleans. This fragrant and colorful gumbo is the perfect way to warm up on a cold winter evening. Traditionally made with meat, I like soy sausage in this for a more heart-healthy vegan treat.
Spicy Gumbo
Ingredients
1 teaspoon ground red pepper
1/2 teaspoon ground black pepper
1 (12-ounce) package soy protein sausage or vegan hamburger-style crumbles, or vegan chicken-style tenders
2 tablespoons almond oil or corn oil
1/3 cup organic almond butter or natural almond butter
1/2 cup chopped, roasted almonds
1/2 cup sliced fresh okra
1/2 cup chopped green bell peppers
1/2 cup chopped, seeded tomato
1/2 cup chopped white onion
1/4 cup chopped celery
1 tablespoon minced garlic
2 cups low-sodium vegetable stock
Salt, pepper and hot sauce to taste
Preparation
Combine ground red pepper and black pepper in a pie pan. Toss soy sausage, crumbles or tenders in this mixture to coat. 
Heat oil in a large, heavy-bottomed pot or Dutch oven. Fry crumbles or tenders on medium heat to warm throughout; remove and set aside. 
Whisk almond butter into remaining oil. Add almonds, okra, peppers, tomato, onion, celery and garlic; stir. Cover and cook, stirring occasionally, until onion is translucent and other vegetables are soft.
Return soy sausage, crumbles or tenders to pot. Stir in vegetable stock. Bring to a boil, then reduce heat and simmer uncovered for 10 to 15 minutes. Season with salt, pepper and hot sauce to taste. 
Serve over hot black-eyed peas or white beans, rice or a combination.
---
Maisie Jane's California Sunshine Products, Inc. was founded on strong beliefs and passion for offering unique, flavorful, top-quality, nut products. At Maisie Jane's we strongly believe in earth-friendly practices that start on our family owned and operated orchards. We use Organic farming practices and continue in the process by using all-natural ingredients with no preservatives or GMOs. And we believe in honest, friendly and helpful customer relations at all levels. We take pride in every task, every day, with every person.