Special Sale on One of Our Most Popular Gift Baskets
Posted on : November 5th, 2019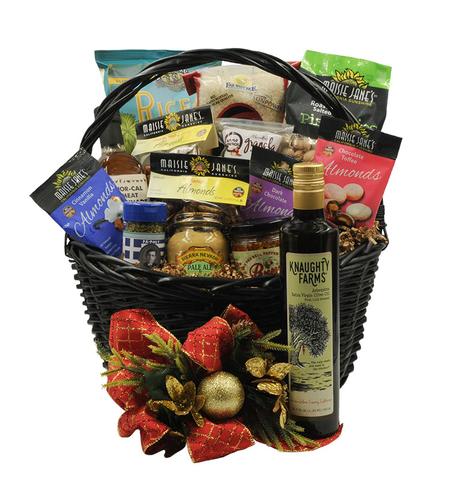 We have a special sale on one of our most popular gift baskets just in time for sending to far away family for Thanksgiving or Christmas! (Or for locals who want to order one to pick up in the store.) Our Taste of Nor Cal Gift Basket is a sure to please crowd favorite. And now through Nov. 26 it's 15% off!
As if you needed something else to entice you! The Taste of Nor Cal basket is such a treat to receive as a gift, especially if you appreciate the bounty of our precious north state. This beautifully decorated basket is filled with a fantastic selection of foodie delights all made right here in Northern California. It includes Far West Rice, Lundberg Farms Rice Chips, Nor Cal Meat Marinade, Knaughty Farms Arbequina Olive Oil, Penna Olive Red Bell Pepper Spread, Sierra Nevada Mustard, Pa-Pau's Greek Oregano, Atheen Oats, Maisie Jane's bulk bag Roasted Salted Pistachios, Country Herb & Garlic Almonds, Tamari Almonds, Chocolate Toffee Almonds, Dark Chocolate Almonds, and Cinnamon Vanilla Almonds.
Thank you for supporting our local farmers and helping us celebrate our local community! We appreciate each and every one of you.
---
Maisie Jane's California Sunshine Products, Inc. was founded on strong beliefs and passion for offering unique, flavorful, top-quality, nut products. At Maisie Jane's we strongly believe in earth-friendly practices that start on our family owned and operated orchards. We use Organic farming practices and continue in the process by using all-natural ingredients with no preservatives or GMOs. And we believe in honest, friendly and helpful customer relations at all levels. We take pride in every task, every day, with every person.