Special for Pumpkin Spice Season – Spiced Pumpkin Almond Butter (Recipe)
Posted on : October 4th, 2018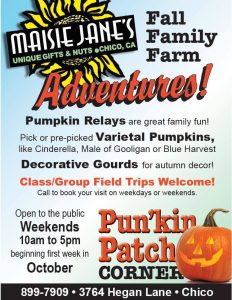 Is it Pumpkin Spice season yet? It must be because it's Pun'kin Patch Corner time at Maisie Jane's! That's when we welcome you all to the farm for pumpkin family adventures and it starts THIS week. Come by 3764 Hegan Lane in Chico for the next several weekends from 10 am – 5 pm for pumpkin relays and pick your own pumpkins. You'll find pre-picked pumpkins, too, and decorative gourds. Class and group field trips are welcome. Call 530-899-7909 to book a time weekdays or weekends.
Don't live near Chico? Well then, I'll just have to share the bounty of the season with you right here with a recipe for making your pumpkin spice dreams come true. Have you ever tasted Spiced Pumpkin Almond Butter? It's a winner! You can whip it up in no time flat, keep it in the refrigerator for up to two weeks, and enjoy it in so many ways. Serve it on cinnamon-raisin bagels, toasted English muffins or waffles or serve it as a fall season dip for fresh apple and pear slices. I recommend swirling it into yogurt and topping it with fried banana slices and finely chopped candied ginger. If you like pumpkin as much as I do, you're going to love this recipe, provided to us courtesy of the Almond Board of California.
Spiced Pumpkin Almond Butter
INGREDIENTS:
1 1/4 cups natural unsalted almond butter
15-ounce can solid pack pumpkin
1/3 cup honey
1 1/2 teaspoons vanilla extract
1 teaspoon ground cinnamon
1/2 teaspoon ground nutmeg
1/4 teaspoon ground ginger
1/4 teaspoon salt
PREPARATION:
Combine all ingredients in a medium bowl and stir until well blended. That's it! Cover the bowl or spoon it into a jar with a cover and refrigerate for use for up to 2 weeks.
---
Maisie Jane's California Sunshine Products, Inc. was founded on strong beliefs and passion for offering unique, flavorful, top-quality, nut products. We strongly believe in earth-friendly practices that start on our family owned and operated orchards. We use Organic farming practices and continue in the process by using all-natural ingredients with no preservatives or GMOs. We believe in honest, friendly and helpful customer relations at all levels. We take pride in every task, every day, with every person.