Snacking with Nuts Can Lower Diabetes Risks
Posted on : March 13th, 2018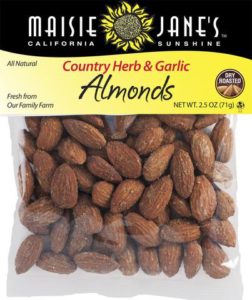 Did you know that eating nuts as part of a healthy Mediterranean style diet can reduce your risk of getting diabetes by 52%? And if you're already a type 2 diabetic, eating just 2 oz a day of nuts combined with this diet could improve insulin resistance, significantly reduce your fasting blood sugar, reduce cholesterol, and help with glycemic control. That's pretty amazing, especially since 2 oz a day is about the same as a handful of nuts—not very much!
Of course, we're not talking about just adding nuts to a regular American diet—you'd be using the nuts as a substitute for high carbohydrate, high sugar snacks. But a Mediterranean diet is actually pretty great, so let's take a look at that.
The Mediterranean diet is traditional in Italy, Greece and other countries around the Mediterranean Ocean. You get to eat almost anything but the emphasis is on fruits and vegetables (7-10 servings a day!), nuts, olive oil (instead of butter), and whole grains, with small amounts of meat and low-fat dairy products. Red meat is eaten only a few times a month while fish and poultry are eaten at least twice a week. Avoid saturated fats and trans fats and replace excessive salt with tasty herbs and spices. Eat sweetened foods in moderation and enjoy fresh fruit more often.
What nuts should you eat? Variety is the spice of life but Walnuts, Almonds and Pistachios are some of  the ones recommended most often. Because they contain a lot of fat, eat nuts in moderation — about 1-2 oz is the perfect amount. Maisie Jane's Flavored Nut Selections would be an excellent way to start! Take one of our snack packs with you to work. Or choose one of our larger bags of nuts to nibble on over a few days.
---
Maisie Jane's California Sunshine Products, Inc. was founded on strong beliefs and passion for offering unique, flavorful, top-quality, nut products. We strongly believe in earth-friendly practices that start on our family owned and operated orchards. We use Organic farming practices and continue in the process by using all-natural ingredients with no preservatives or GMOs. We believe in honest, friendly and helpful customer relations at all levels. We take pride in every task, every day, with every person.