Snacking is Good for You! Maisie Jane's Can Help.
Posted on : September 28th, 2017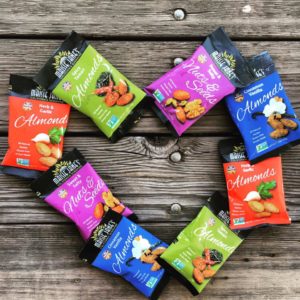 Need to lose weight and still keep yourself energized throughout the day? Then you need to snack and Maisie Jane's is here to help you do that in the most healthy and delicious ways possible.
Most people get hungry every 3-4 hours. But meal times in our modern world tend to be spaced out much longer than that so we start to fade at various intervals throughout our day. Most of us try to counter that by grabbing the nearest caffeinated drink and a candy bar. And that might feel like it works temporarily. . . until we experience a sugar crash a little while later and need to do it again! Instead of truly addressing our hunger, we're overloading our bodies with high calorie, low nutritional value substances that stress our adrenals and harm our pancreas, make us fat and set us up for illnesses like diabetes and heart disease.
Healthy snacking helps you keep your blood sugar and energy levels stable all day long while providing real nutrition that does our minds and bodies a lot of good. That means you're less likely to have those between-meal dips that sap your ability to get anything done. It also keeps you from starving yourself all day and overeating at night.
But you want a fun and tasty snack, right? Maisie Jane's to the rescue!

Maisie Jane's almond snacks are a great source of energy-providing protein— 6 grams in every 1 oz serving! They provide useful vitamins and minerals like biotin, Vitamin E, Vitamin B2, Manganese, and Copper. But they're also cholesterol-free, low in saturated fat and high in monosaturated "good" fats that help you feel full while being an excellent choice for a heart-healthy diet.
Not only that, the crunchy sensation of biting into almonds has been proven to make you feel good emotionally and physically! According to the Institute for the Psychology of Eating (yes, this really exists!)  biting into crunchy food helps us release tension while satisfying some pretty basic primal needs: the more we need to chew something, the more nutrition we derive from it!
So let Maisie Jane's help you get your crunch on! We have a fantastic line-up of brand new, perfectly sized, flavored almond snack packs, easy to take with you to work or school, and oh-so-much fun to eat!
Like a spicy treat? Our new Spicy Tamari Almonds have a wonderful smoky salty flavor with just the right touch of heat that lingers on the palette just long enough to keep you coming back for more.
Ingredients: Dry-Roasted California Almonds, Organic Tamari Sauce, Cayenne Pepper, Chili Pepper
Price: 6 pack $10.50
Also new, our Herb & Garlic Almonds are a savory Italian taste sensation that is sure to become a favorite not just for snacking but for dressing up your favorite salad or for crumbling into a variety of delicious recipes.
Ingredients: Dry-Roasted California Almonds, Egg Whites, Dehydrated Cane Juice, Granulated Garlic, Parsley, Garlic Salt
Price: 6 pack $10.50
Prefer to mix salt with sweet? Our Sweet and Salty Nuts and Seeds pack will provide that "WOW" factor you crave!
Ingredients: Dry-Roasted California Almonds, Egg Whites, Walnuts, Pumpkin Seeds, Dehydrated Cane Juice, Organic Tamari Sauce, Sea Salt, Chili Pepper, Tumeric, Cumin
Price: 6 pack $10.50
Can't do without something sweet? Make your treat a healthier one! Our new Cinnamon Vanilla Almonds are lightly sweetened, dusted in cinnamon and drenched with pure vanilla. So good!
Ingredients: Dry-Roasted California Almonds, Dehydrated Cane Juice, Egg Whites, Cinnamon, Vanilla, Nutmeg, Allspice, Sea Salt
Price: 6 pack $10.50
---
Maisie Jane's California Sunshine Products, Inc. was founded on strong beliefs and passion for offering unique, flavorful, top-quality, nut products. We strongly believe in earth-friendly practices that start on our family owned and operated orchards. We use Organic farming practices and continue in the process by using all-natural ingredients with no preservatives or GMOs. We believe in honest, friendly and helpful customer relations at all levels. We take pride in every task, every day, with every person.