Snacking Done Right
Posted on : December 9th, 2020
Let's face it, snacking is awesome!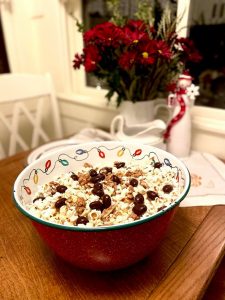 Whether it's between meals or those "late night munchies" snacks are our happy place. We have a yummy,  but more importantly, EASY snack idea that are the perfect combination of sweet and salty. We will give you a hint, they all include popcorn and Maisie Jane treats. It's so easy, husbands and kiddos can do it while mom snuggles on the couch and gets to pick the movie!
You're probably thinking that snacking on delicious popped corn is nothing special…but have you ever tried adding a bit of flare? Dark chocolate almonds, cinnamon covered walnuts, chocolate covered cherries, garlic herb almonds…the possibilities are endless. Just pick your favorite flavors from our store or website and pour them right in. We recommend doing it while the popcorn is still warm so you can achieve ultimate melty goodness! And if you haven't tried Maisie Janes Carmel Corn, well, you should probably add that to the list too.
Today we are also going to show you how we love to make stovetop popcorn at home.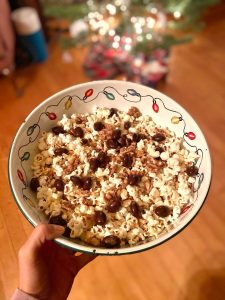 Stovetop Popcorn:
What you'll need:
How to make it:
Take a large pot and coat the bottom with oil.

Cover the bottom of the pot with your popcorn kernels .

Heat the oil on medium high.

Meanwhile, started to melt your desired amount of butter in a separate container.

When you hear the first kernel pop, start to shake the pot and continue shaking until you don't heart it.

Pour half of you popcorn into your eating bowl, and covered in half of your melted butter. Sprinkle desired amount of salt

Repeat this process with remaining layer of popcorn.

Top off with any of Maisie Jane goodie you desire!
We hope you enjoy one of the most classic movie snacks of all time, Maisie Jane style.
Maisie Jane's California Sunshine Products, Inc. was founded on strong beliefs and passion for offering unique, flavorful, top-quality nut products. We embrace earth-friendly practices that start on our family-owned and operated orchards. We use organic farming practices and continue in the process by using all-natural ingredients with no preservatives or GMOs. We believe in honest, friendly and helpful customer relations at all levels. We take pride in every task, every day, with every person.