Snack Your Way to Health with Maisie Jane's
Posted on : January 23rd, 2018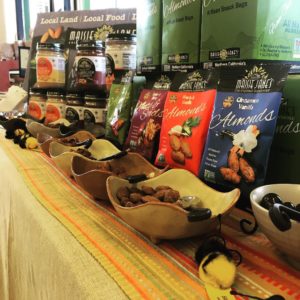 Did you know that 92% of Americans snack at least once a day? Unfortunately, most of us are choosing fattening empty calorie snacks like cookies, candy, ice cream, and chips, usually with a sugary soda added to boot! And this is leading to an epidemic of heart disease, obesity and diabetes in the United States that is no laughing matter.
But what would happen if people were to swap these sugary snacks with almonds or other tree nuts? The good folks at the Almond Board wanted to know so they funded a study at the University of Washington's Center for Public Health Nutrition. They did a rather detailed food pattern analysis that showed that making this simple switch could pay significant dividends in terms of higher nutrition, better overall diet quality and lower weight.
Swapping almonds for more typical snacks was shown to increase the amount of fiber, magnesium, and good fats in a diet. It also decreased the number of empty calories, added sugars, solid fats, saturated fat, and sodium. Almonds are also low on the glycemic scale which is great news for diabetics and people watching their weight.
So get your snack on at Maisie Jane's! Visit our online store and check out our new snack packs. They all feature our healthy and delicious, all natural, dry-roasted almonds. They're all Kosher certified and gluten-free. And you'll get a FREE 1.13oz Surprise Flavor BONUS BAG with each purchase of a 6-pack to get a taste of another new amazing snack pack flavor.
---
Maisie Jane's California Sunshine Products, Inc. was founded on strong beliefs and passion for offering unique, flavorful, top-quality, nut products. We strongly believe in earth-friendly practices that start on our family-owned and operated orchards. We use organic farming practices and continue in the process by using all-natural ingredients with no preservatives or GMOs. We believe in honest, friendly and helpful customer relations at all levels. We take pride in every task, every day, with every person.