Add Almond Butter for a Delicious Change to S'mores in a Skillet
Posted on : June 30th, 2017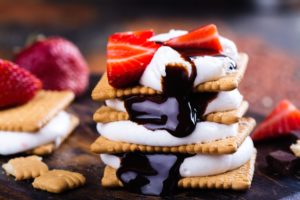 Summer is the time for backyard BBQ's, days spent at the lake relaxing, road trips with the family, and camping out under the stars. You have almost three months to enjoy these kinds of activities. BUT there is only one weekend that everyone goes all out for summer activities, the 4th of July!
This is the time all you bakers have been waiting for (besides Thanksgiving that is). It's time to bust out all your red, white, and blue recipes that go anywhere from the simple pie to the crazy intricate cake design. This is where you get to prove to everyone that you have the best 4th of July dessert and that everyone at the picnic will want your recipe – in fact, you're sure of it.
Maybe this is the year to shock all your baking friends and come up with something new that you're sure no one else is going to think of. If that's you then we have the perfect recipe for you to make.
This one brings a good old summer night favorite with a splash of patriotic red, white, and blue coloring that is needed for this holiday. Red, White, and Blue Skillet S'mores will have everyone wanting more than they probably should!
It's the perfect holiday twist to an already classic summer night go-to. In order for you to have this amazing dessert at your holiday party, it's important to know what goes into it – that way you can get everything next time you're at the store.
Here is what you need!
Ingredients
Graham Cracker Squares
Hershey bars (one bar for one skillet)
Sliced Strawberries (around 4 for one skillet)
Sliced Bananas (1/2 banana for one skillet)
Blueberries (1/2 cup for one skillet)
Big Marshmallows
Chocolate Sauce*
*For an extra sweet taste drizzle a little chocolate sauce on your finished creation!
For the instructions and serving size to this delicious patriotic dessert check out 3ScoopsOfSugar.com. Meghan gives you all the information you need along with nutrition facts if you need them!
Go and enjoy your tasty creation, and don't forget to have fun celebrating the holiday with all your friends and family!

Maisie Jane's California Sunshine Products, Inc. was founded on strong beliefs and passion for offering unique, flavorful, top-quality, nut products. We strongly believe in earth-friendly practices that start on our family owned and operated orchards. We use Organic farming practices and continue in the process by using all natural ingredients with no preservatives or GMOs. We believe in honest, friendly and helpful customer relations at all levels. We take pride in every task, every day, with every person.