Should You Buy Crunchy or Smooth Almond Butter?
Posted on : August 20th, 2019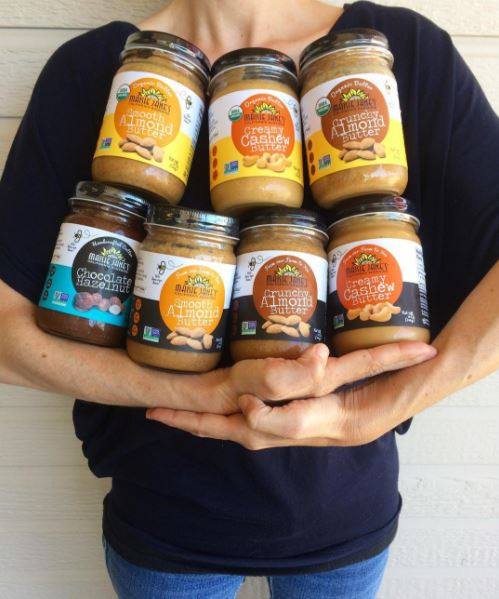 What do you like best? Crunchy almond butter or smooth? I'll admit that I have gone through phases with this. As a child you couldn't get me to eat anything but smooth nut butter but my dad preferred the crunchy stuff. Maybe that's why when I became an adult I was convinced that adults eat crunchy and threw my childhood habits away! But now I've come full circle and somewhat prefer smooth again (but not all the time)!
Surveys have shown that smooth nut butter is a bit more popular than crunchy —except among men. And this is especially true for children. So my personal experience is right in line with what seems to be "on trend." And people actually fight about what's best online! (Of course, they do. People fight about everything online!) The most popular complaint is that crunchy nut better rips up bread when you spread it. Hmmm, I don't know what kind of bread they're using but . . . have you tried it melty on toast? Melty almond butter with crunchy bits in it and a touch of jam or honey is a culinary delight! (Try it!)
Perhaps you're wondering which is healthier? Well, I couldn't find anything specific about almond butter but, when talking about the other most popular nut butter (peanut), crunchy slightly edges out smooth. It has more fiber! But it's a small difference.
What about psychological difference? Well, that's where the internet goes a bit nuts! "Smooth is sexy" one website says. (What are they doing with it?) People think it's best for adding to recipes. One website even touts the ability to use smooth nut butter to shave your legs! (Seriously, Spoon University, what are you thinking?) On the other hand, there is actual science that says that crunch makes people happier! People are apparently "hard-wired" to like crunching on things. It engages more of our senses, lets us know when fruits and vegetables are fresh, and adds an element of fun to things like potato chips and other snack foods. But only if you expect the food to crunch! (Then it's not such a good thing.)
My advice: follow your heart! You can't go wrong with delicious, additive-free, nothing but dry-roasted nuts, almond butter from Maisie Jane's! We have four varieties: Smooth, Crunchy, Organic Smooth, and Organic Crunchy! Plus you can branch out from there and try our wonderful selection of decadent handcrafted flavored nut butters and cashew butter, too!
---
Maisie Jane's California Sunshine Products, Inc. was founded on strong beliefs and passion for offering unique, flavorful, top-quality, nut products. We strongly believe in earth-friendly practices that start on our family owned and operated orchards. We use Organic farming practices and continue in the process by using all-natural ingredients with no preservatives or GMOs. We believe in honest, friendly and helpful customer relations at all levels. We take pride in every task, every day, with every person.