Share our California Bounty this Holiday Season
Posted on : November 7th, 2019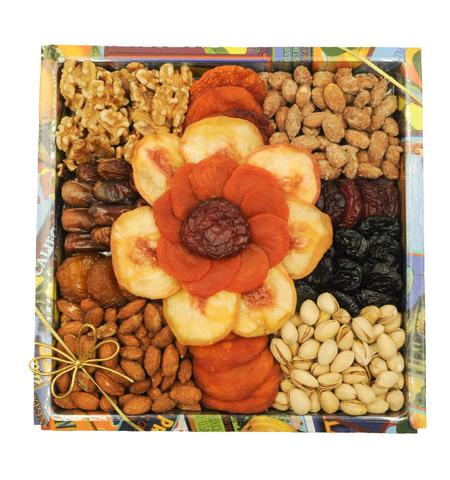 Tis the season to be thankful and celebrate. And this year we have a new offering that's just perfect for your holiday table or to send as a gift to family or friends. It's our California Bounty Box and it is gorgeous!
In my family we always receive a box of harvest treats from one of our relatives. It gets a place of honor on the coffeetable and is always DEVOURED within a few days (if not sooner). This year I'll be the one sending the treats and the California Bounty Box is at the top of my list. Just look at it! That flower of dried fruit slices in the center is so appealing and the variety of treats are so nicely arranged. I love it! And everything comes in a beautifully designed gift box with nostalgic California fruit box labels all over it, tied with a bow! It's perfect for gifting or ready to serve to guests at your holiday gatherings.
This Bounty Box includes an assortment of California grown Dried Apricots, White and Yellow Peaches, Dried Plums and Pluots and Deglet Noor Dates, Maisie Jane's Cinnamon Glazed Almonds, Country Herb & Garlic Almonds, Natural Walnuts and Roasted and Salted Pistachios. Wonderful to look at and delicious to eat!
You can buy this gift box in our online store and have it shipped on time for Thanksgiving or Christmas anywhere in the country. Or choose "in-store" pick-up and have one set aside for you in our country store at 1324 Dayton Rd. in Chico. Avoid waiting in line to pay by paying online. Ask our staff at the front counter for your order and off you go! Order one today!
---
Maisie Jane's California Sunshine Products, Inc. was founded on strong beliefs and passion for offering unique, flavorful, top-quality, nut products. At Maisie Jane's we strongly believe in earth-friendly practices that start on our family owned and operated orchards. We use Organic farming practices and continue in the process by using all-natural ingredients with no preservatives or GMOs. And we believe in honest, friendly and helpful customer relations at all levels. We take pride in every task, every day, with every person.