Salted Caramel Cashew Butter Banana Bread Recipe
Posted on : February 15th, 2018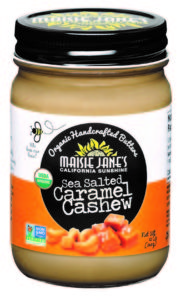 Have you tried our new Organic Sea Salted Caramel Cashew Butter yet? It's a delicious blend of sea salt, brown rice syrup, and organic dry roasted cashews. It's Non-GMO Project Certified, Vegan, Wheat-free and Gluten-Free and made in our plant that does NOT process peanuts so it's a great indulgence for your health-conscious lifestyle. . . but today's recipe isn't so much about that.I'm thinking about what I want to eat on my cheat day and this yummy nut butter is the inspiration!
I'm also thinking about bananas. I go through periods when I just crave bananas. That probably means I need more potassium in my diet but what better way to take care of that? Unfortunately, I have a tendency to buy too many bananas when I'm craving them so they wind up turning brown before I can eat them all. But that's perfect for today's recipe. Brown-spotted, almost completely brown bananas make the best banana breads. They haven't gone bad — they're fully RIPE, sweet, and easy to mash. And, from what I hear, they're even better for you like that!
Salted Caramel Cashew Butter Banana Bread
1½ cups all-purpose flour (I prefer to use 1/2 whole wheat)
½ teaspoon baking soda
¼ teaspoon baking powder
1/4 cup honey
¼ cup melted coconut oil
2 eggs
1 teaspoon vanilla or almond extract
3 over-ripe bananas, mashed
Optional: 1/2 cup dark chocolate chips, chopped nuts or 1/2 cup of each
1. Preheat the oven to 350ºF. Coat an 8-by-4-inch loaf pan with cooking spray, butter or oil.
2. Whisk together the flour, baking soda and baking powder.
3. Mix the Caramel Cashew Butter, honey, coconut oil, eggs and vanilla or almond extract.
4. Add the dry ingredients and mix well. Then fold in the bananas and any optional ingredients.
5. Use a spatula to transfer the batter into your loaf pan and smooth the top. Bake until a toothpick inserted in the center of the bread comes out clean, about 50 to 60 minutes. Let cool in the pan for 10 minutes. Then loosen the edges with a knife and remove it to cool completely on a wire rack.
This recipe is pretty sweet (by my standards) although it has far less sweetener than the banana breads I grew up with. Too sweet? Substitute Maisie Jane's Organic Smooth Almond Butter for the Caramel Cashew Butter (and consider adding 1/2 tsp salt).
---
Maisie Jane's California Sunshine Products, Inc. was founded on strong beliefs and passion for offering unique, flavorful, top-quality, nut products. We strongly believe in earth-friendly practices that start on our family owned and operated orchards. We use Organic farming practices and continue in the process by using all-natural ingredients with no preservatives or GMOs. We believe in honest, friendly and helpful customer relations at all levels. We take pride in every task, every day, with every person.