Roast Salmon with Orange Gremolata and Almonds (Recipe)
Posted on : May 29th, 2018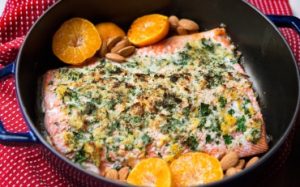 I made salmon dipped in almond meal for dinner last night and it was SO delicious I thought I'd share the recipe with you. But it's barely a "recipe." Take your fish, dip it in a beaten egg, and then in almond meal. Then bake it or fry it or grill it and enjoy! But then I saw this recipe created by Chef Katie Cavuto for the California Almond Board using Orange Gremolata. Wow! That's worth writing a blog post about.
Gremolata is a classic Italian herb condiment that is traditionally made with lemon zest, garlic, parsley and anchovy. It's often paired with veal in a Milanese dish called Ossobuco alla Milanese.  But there are MANY variations on what a gremolata can be that can make so many dishes fit for a  king. In this recipe the garlic and anchovy are left out and orange zest is substituted for lemon.
You will also need almond meal. If you have a food processor or coffee grinder, I recommend making your own. It's so fast and easy and less expensive than the ready made store bought variety, and it's great to eat fresh. All you need to do is put about 1/2 cup of almonds at a time into a clean coffee grinder or food processor. Pulse several times until a medium-fine textured meal forms. That's it! You'll do this twice to make enough almond meal for this recipe. My only warning is not to pulse too long or it will get oily. If you have any large clumps of nuts left after most of the meal is right, just sift those out and put them back into the coffee grinder to pulse again separately. Use what you like for this recipe and save the rest in a plastic bag. it will keep in the cupboard for several days or put it in the refrigerator or freezer to help keep it fresh a long time.
Roasted Salmon with Orange Gremolata and Almonds
INGREDIENTS:
1-1/2 pounds of wild salmon filet
3/4 cup almond meal
1/2 cup fresh parsley, finely chopped
2 tablespoons orange zest
2 tablespoons orange juice
2 tablespoons olive oil
1/4 teaspoon cumin
Salt and pepper to taste
Combine the almond meal, parsley and orange zest in a small bowl.
Place the salmon filet, skin side down, in a baking dish. Drizzle with orange juice and olive oil. Season the salmon with cumin, salt and pepper. Then coat the salmon with the almond meal mixture.
Roast at 400ºF for about 8-10 minutes depending on the thickness of the filet.
Then place the oven on broil. Brown the crust for 1-2 minutes or until breading is golden.
Serves four.
---
Maisie Jane's California Sunshine Products, Inc. was founded on strong beliefs and passion for offering unique, flavorful, top-quality, nut products. We strongly believe in earth-friendly practices that start on our family owned and operated orchards. We use Organic farming practices and continue in the process by using all-natural ingredients with no preservatives or GMOs. We believe in honest, friendly and helpful customer relations at all levels. We take pride in every task, every day, with every person.