Recipe: Creamy Cashew Soup for a Harvest Feast
Posted on : October 10th, 2017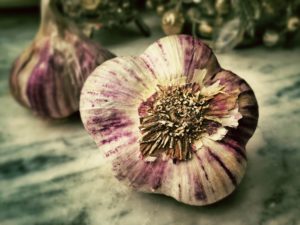 Years ago a good friend introduced me to Cashew Soup and it was a revelation. It was creamy — I thought it had milk in it but the recipe is vegan and completely dairy-free. It was easy and took so little time to make I was amazed. And even though it was delicious on its own, it was great as a base for other creations. Adding cooked yams and tamari was my favorite but curry and cauliflower was also wonderful. My friend loved adding zucchini or other vegetables and a variety of different herbs.
This recipe calls for salted roasted cashews ground in the blender with 2 cups of broth. If you don't have cashews on hand try it with 1/2 cup or more of Maisie Jane's delicious Creamy Cashew Butter! This is a forgiving recipe you can experiment with to your heart's content.
Ingredients
1 medium onion, chopped
2 garlic cloves, finely chopped
1/2 teaspoon salt or tamari
1 tablespoon olive oil
1 cup Maisie Jane's salted roasted cashews  or 1/2 cup or more of Maisie Jane's Creamy Cashew Butter
1 tablespoon tomato paste
3 1/2 cups canned or homemade chicken broth
1/4 tsp or more of any herbs or spices you like (to taste)
Optional: sautéed zucchini, chopped cooked yams or whatever vegetables you like (leftovers are great!)
Preparation
Cook onion, garlic, salt or tamari, and black pepper in oil in a 2- to 3-quart saucepan over moderate heat, stirring occasionally, until the onions are soft and golden, about 6 to 8 minutes.
Transfer to a blender and purée with cashews, tomato paste, and 2 cups or more of the  broth until smooth, about 1 minute.
Add optional vegetables and blend again until smooth.
Return to saucepan and stir in remaining broth, then simmer, stirring occasionally, until slightly thickened, about 1 minute.
Season soup with additional tamari or salt (if desired) and serve.
---
Maisie Jane's California Sunshine Products, Inc. was founded on strong beliefs and passion for offering unique, flavorful, top-quality, nut products. We strongly believe in earth-friendly practices that start on our family owned and operated orchards. We use Organic farming practices and continue in the process by using all-natural ingredients with no preservatives or GMOs. We believe in honest, friendly and helpful customer relations at all levels. We take pride in every task, every day, with every person.