Recipe for Almond Butter Pumpkin Muffins with Chocolate Chips
Posted on : September 10th, 2017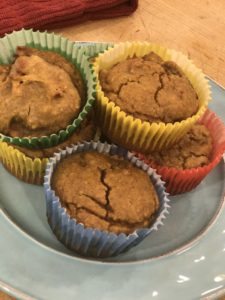 The temperatures in Chico, CA, where we live, finally dipped below 100ºF last week and locals cried out "Hooray! Is it Fall? Can we break out the Pumpkin Spice recipes yet?"
We don't know but here at the Hurtado household we didn't wait to find out. I whipped up a brand new original recipe for Almond Butter Pumpkin Muffins with Chocolate Chips and the kids loved them! And I felt great serving them because they're filled with such wholesome, healthy and fuel-filled ingredients. 
I used Maisie Jane's Smooth Almond Butter for this recipe. It has no cholesterol and is less fattening with fewer calories than peanut butter. It's a great way to add extra protein into a diet but the family won't be thinking about that because these muffins are SO delicious!
These muffins are likely to be eaten up plain, straight out of the oven, perhaps with a glass of milk or a cup of tea. But try spreading them with whipped cream cheese for an even more decadent treat!
Almond Butter Pumpkin Muffins with Chocolate Chips
Ingredients:
1 Cup Maisie Jane's Natural Smooth Almond Butter or Organic Smooth Almond Butter
1 Cup Pumpkin Puree
3 farm fresh eggs
¼ Cup Maisie Jane's Honey
2 tsp. Baking soda
1 Cup Almond Flour
¾ tsp. sea salt
1 tsp. ground cinnamon
¾ Cups Dark Chocolate chips
Preheat oven at 400 degrees.  
Whisk eggs, then add almond butter, pumpkin, and honey.  Blend well.  Mix in separate bowl your almond flour, baking soda, salt, and cinnamon.  Slowly add to your 'wet' ingredients until blended.  Lastly add the chocolate chips
Separate evenly into muffin cups, with paper liners.  Place in oven for 18 minutes or until center is dry when tested with a toothpick.  Cool and enjoy!
Makes 18 muffins
---
Maisie Jane's California Sunshine Products, Inc. was founded on strong beliefs and passion for offering unique, flavorful, top-quality, nut products. We strongly believe in earth-friendly practices that start on our family-owned and operated orchards. We use organic farming practices and continue in the process by using all-natural ingredients with no preservatives or GMOs. We believe in honest, friendly and helpful customer relations at all levels. We take pride in every task, every day, with every person.