Putting a Spotlight on Flavored Nuts from Maisie Jane's
Posted on : June 25th, 2019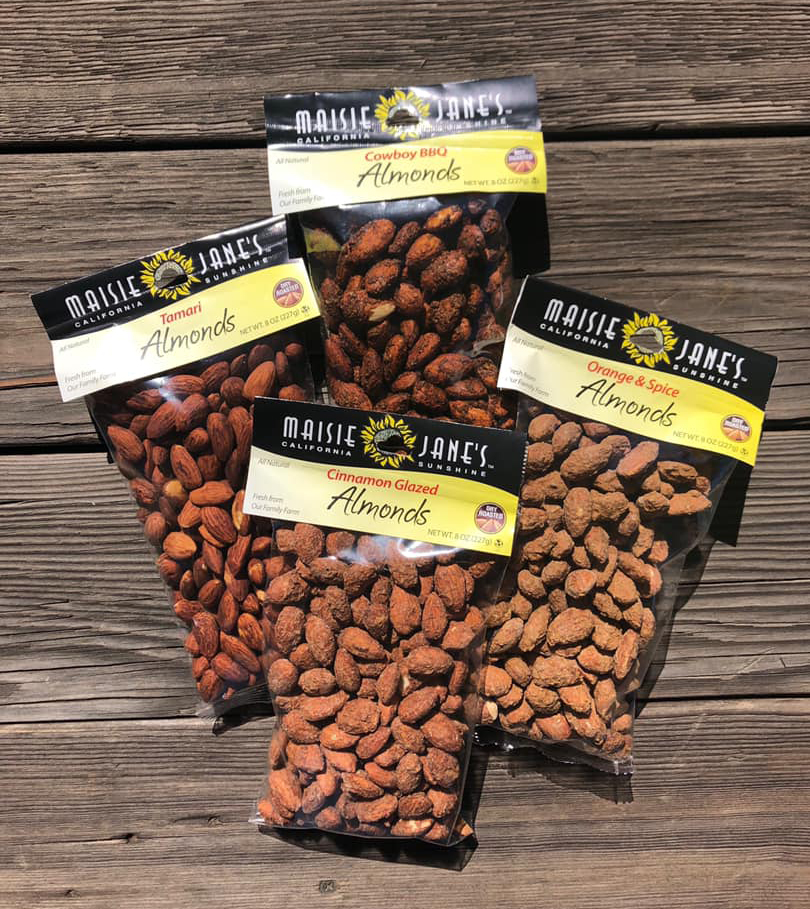 It's summer! Hooray! The best time of year for camping and picnics, hiking, and impromptu backyard barbecues and parties. And one of my favorite snacks to bring to any of these events are flavored nuts from Maisie Jane's.
Honestly, the selection of nuts we carry is so much fun. I planned to choose my favorites and talk about them but I don't know which ones to pick! So let's just dive in:
Tamari Almonds
Tamari Almonds are certainly one of the local favorites and one of the first flavors we made. I like them because Tamari is a type of naturally brewed soy sauce and they give these almonds a nice salty flavor without using salt! And, when you're not eating them by the handful, they're great in Asian dinner recipes. Add a few to your next stir-fry!
Country Herb & Garlic Almonds
Is the idea of cooking with flavored almonds interesting? Then you really must try our Country Herb & Garlic Almonds. These are great whole or chopped and added to salads. Or allow them to inspire you to new culinary heights. Have you ever tried crostini? They're little slices of toasted bread– French baguettes are perfect–that are topped with a variety of cheeses, meats or vegetables or simply brushed with olive oil and herbs. They're served as an appetizer and our Country Herb & Garlic Almonds are wonderful chopped and sprinkled on top.
Organic Curry Spice Cashews
In the mood for something a bit more exotic? I love enjoying the Far Eastern flavor of our Curry Spice Cashews by the handful at a party. I'd love to suggest some recipes to use these in but, to be honest, I'm afraid most people would find my experiments a little weird. I like pairing these with something sweet like coconut and fried bananas. (Your taste preferences might vary!)
Cowboy BBQ Almonds
Looking for something addictive to serve at a party? Cowboy BBQ Almonds are my go-to for intense flavor with just enough hot spice (but not too much). Put a bowl of these on the picnic table and watch them disappear!
Organic Honey Glazed Almonds, Walnuts or Cashews
Now I'm going to do a sharp left turn from spicy nuts and head into the land of sweet. The honey glaze adds such a yummy sweet flavor and crunch that we couldn't resist trying it on three kinds of nuts. Almonds, walnuts or cashews all are delicious this way. Try them mixed into your morning cereal or oatmeal or sprinkled on top of waffles or pancakes for a special breakfast treat.
Cinnamon Glazed Almonds or Walnuts
Our Cinnamon Glazed Almonds are DELICIOUS! You have to keep me away from these because I love cinnamon and just can't get enough. Try them chopped as a topping for ice cream sundaes–yum! Or add them to your favorite cookie recipe—yes, VERY good! We also have Cinnamon Glazed Walnuts that I think would be especially good in cake.
Orange & Spice Almonds
The taste of real orange, combined with pumpkin spices, might remind you of the holiday tastes and smells of Christmas. These are wonderful paired with a nice hot cup of tea or chopped and added to a simple quick bread or cookies. I know I just raved about the Cinnamon Glazed Almonds but our Orange & Spice Almonds are a special gourmet delight. Sprinkle some into a baked custard for a lovely dessert delight!
---
Maisie Jane's California Sunshine Products, Inc. was founded on strong beliefs and passion for offering unique, flavorful, top-quality, nut products. We strongly believe in earth-friendly practices that start on our family-owned and operated orchards. We use organic farming practices and continue in the process by using all-natural ingredients with no preservatives or GMOs. We believe in honest, friendly and helpful customer relations at all levels. We take pride in every task, every day, with every person.