Pumpkin Almond Chocolate Chip Cookies (recipe)
Posted on : October 24th, 2019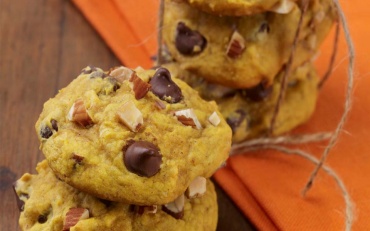 OMG, it's pumpkin spice season already! I'm not a huge fan of all things pumpkin spice . . . but I do love pumpkin! Something about that orange squash just makes my mouth water! Add a little cinnamon and nutmeg (or pumpkin spice) and I pretty much HAVE to have some! But given that it's not even Halloween yet, let's not dive into pumpkin pie and pumpkin bread just yet. How about some delicious cookies for your Halloween party?
These cookies are bound to be a hit. No "tricks" in this recipe—it's all treat! These airy cookies are a perfect match with a cup of hot chocolate or coffee. They have a soft, muffin-like texture, but if you prefer a crispier exterior (I do), use all brown sugar (instead of part white) and bake a few minutes longer.
Pumpkin Almond Chocolate Chip Cookies
Ingredients
2 ½ cups flour
1 tsp. soda
1/2 tsp. salt
1 tsp. nutmeg
1 tsp. cinnamon or 2 tsp. pumpkin pie spice
1/2 cup butter
1 cup white sugar (or brown for crispier cookies)
1/2 cup brown sugar
1 egg
1 cup reduced pumpkin puree or pumpkin butter (see note below)
1 tsp. vanilla
1/2 cup diced Maisie Jane's Roasted Almonds
1 cup chocolate chips
Preparation
In a medium bowl, mix together flour, baking soda, salt and spices and set aside.
In the large bowl of an electric mixer, cream together butter and sugar until light and fluffy. Add egg, pumpkin and vanilla and mix until just combined.
On medium-low speed, add flour mixture until fully incorporated. Remove bowl from mixer and stir in almonds and chocolate chips.
Drop by teaspoonfuls onto a greased or lined cookie sheet and flatten slightly with the back of a spatula. Bake at 350 degrees for 15 minutes or until lightly browned. Transfer cookies to a wire rack to cool before devouring.
NOTE: Reduce pumpkin puree in a pan over medium heat, stirring frequently, for at least an hour, until color becomes a deep brown. You could substitute packaged pumpkin butter but frequently those will have additional sweeteners and flavors. Check to be sure! If you use a ready-made pumpkin butter you probably will need to adjust this recipe to taste.
---
Maisie Jane's California Sunshine Products, Inc. was founded on strong beliefs and passion for offering unique, flavorful, top-quality, nut products. We strongly believe in earth-friendly practices that start on our family owned and operated orchards. We use Organic farming practices and continue in the process by using all-natural ingredients with no preservatives or GMOs. We believe in honest, friendly and helpful customer relations at all levels. We take pride in every task, every day, with every person.