Our Most Amazing Nut Butters are on Sale!
Posted on : April 23rd, 2019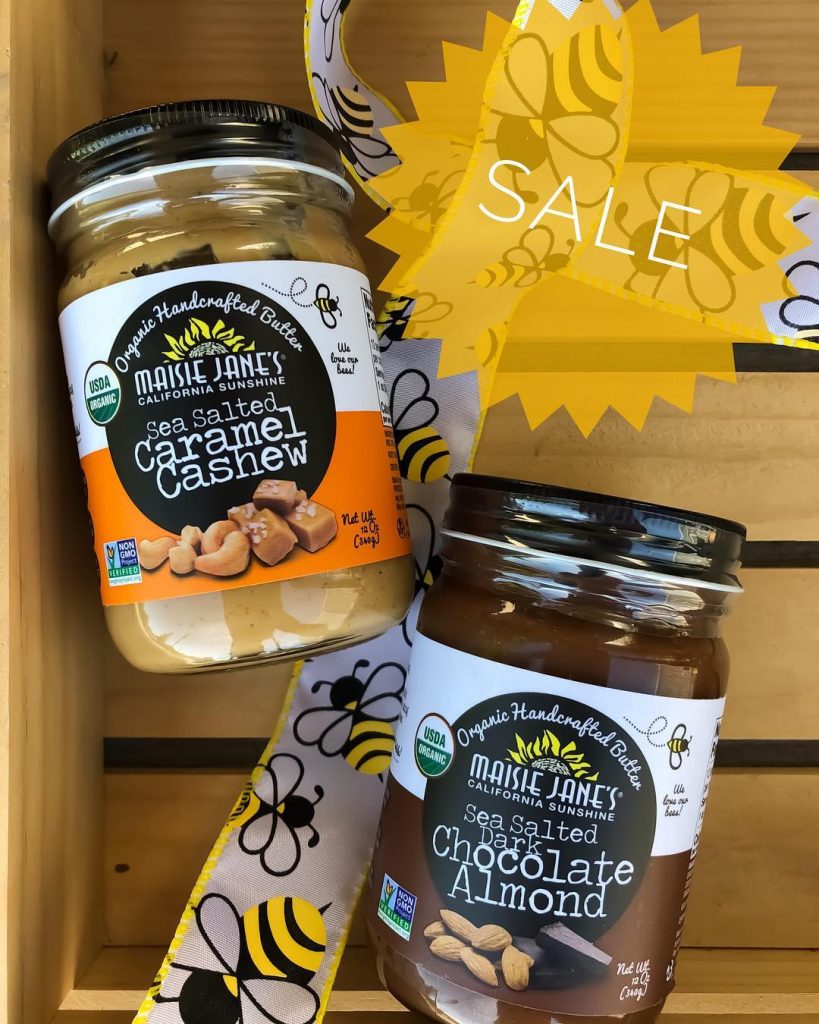 If you haven't tried the newest additions to Maisie Jane's nut butter family, here's a chance you can't afford to miss! 20% off our sinfully delicious Organic Sea Salted Dark Chocolate Almond Butter and our Organic Sea Salted Caramel Cashew Butter while supplies last. So don't delay! Both are handcrafted here in Chico, CA and feature that utterly addictive combination of salty and sweet.
What, you may ask, would you do with these unusual yet intriguing nut butters? Well, I'm glad you asked. Raise Sunday brunch to new levels while satisfying your sweet tooth with a choice that is more healthy. They're full of protein, with no trans fats, and with all the qualities that make our almond and cashew butters healthy choice winners with the addition of tasty ingredients that will send your tastebuds over the moon!
Imagine muffins spread with one of these nut butters. Or drizzle them over crepes and fruit, maybe with the addition of whipped ricotta cheese. Yum! Make a french toast sandwich with one of these nut butters in between. Add bacon if you dare! Or sliced bananas. Or both. 😃
And while you're thinking about being daring and broadening your culinary horizons, why not make a fabulous dessert with them? Try this simple yet elegant almond trifle recipe and then dress it up with the nut butter of your choice. Or make these super easy Fried Bananas and drizzle them with Dark Chocolate Almond Butter. Use them to top waffles. So delicious! Want a dessert delight that is even less work than that? Buy yourself some simple vanilla wafer cookies or ginger snaps and spread one of these nut butters on top. Done. Except you won't want to stop!
So what are you waiting for? This sale won't last long. Get some today!
---
Maisie Jane's California Sunshine Products, Inc. was founded on strong beliefs and passion for offering unique, flavorful, top-quality, nut products. We strongly believe in earth-friendly practices that start on our family owned and operated orchards. We use Organic farming practices and continue in the process by using all-natural ingredients with no preservatives or GMOs. We believe in honest, friendly and helpful customer relations at all levels. We take pride in every task, every day, with every person.