Our Black Friday Cyber Monday Sale Begins Today!
Posted on : November 27th, 2019
At Maisie Jane's we do this shopping extravaganza right. No one day sale where you have to brave the masses for us! We offer a luxurious extra long weekend of 20% off on all your favorite gift baskets and gift crates & flats starting today, November 27 – December 2nd.
Use this discount code* at checkout: MJSAVE20
If you live near Chico, come on by to our beautifully decorated festive gift shop at 1324 Dayton Road. Pour yourself a hot mug of apple cider and pick out all your holiday gifts. Or make it even easier on yourself by drinking a mug of whatever you like at home and picking out your gifts online. There are SO many to choose from you're sure to find something perfect for everyone on your list!
Need some suggestions? Here are some of my favorites: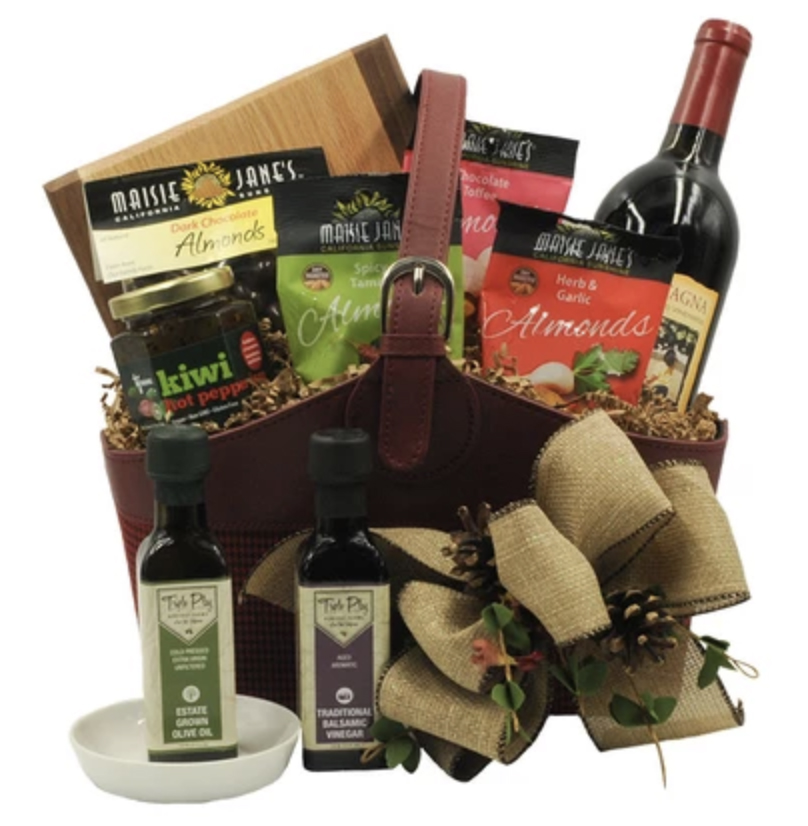 This basket features a gorgeous custom made Bob Mabry Cutting Board with dipping dish, Triple Play Estates Grown Extra Virgin Olive Oil, Triple Play Traditional Balsamic Vinegar, Bertagna Son Kissed vineyards – Barbera wine, T.J. Farms Kiwi Pepper Jam, Maisie Jane's Spicy Tamari, Herb & Garlic, Dark Chocolate, and Chocolate Toffee Almonds. A true gourmet food lover's delight!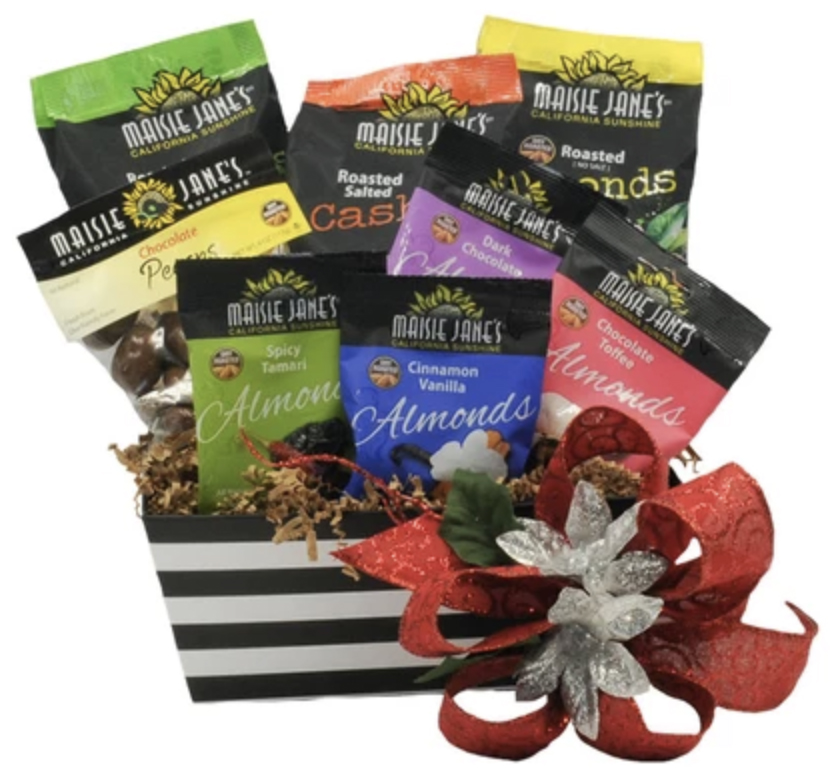 How fun! Three large bulk bags of Maisie Jane's nuts: Dry Roasted Salted Cashews, Roasted Salted Pistachios, and Roasted Almonds. Also Chocolate Pecans, Chocolate Toffee Almonds, Dark Chocolate Almonds, Spicy Tamari Almonds and Cinnamon Vanilla Almonds.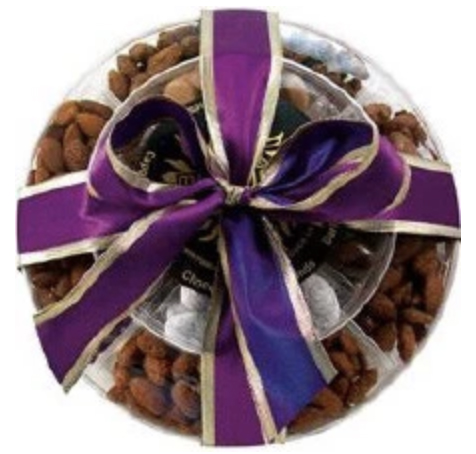 Always welcome! Large round: Cinnamon Glazed, Tamari, Orange & Spice, and Country Herb & Garlic. Small Round: Chocolate Toffee, Dark Chocolate, Truffle, and Cappuccino Almonds. Tied with a festive bow.
---
Maisie Jane's California Sunshine Products, Inc. was founded on strong beliefs and passion for offering unique, flavorful, top-quality, nut products. At Maisie Jane's we strongly believe in earth-friendly practices that start on our family owned and operated orchards. We use Organic farming practices and continue in the process by using all-natural ingredients with no preservatives or GMOs. And we believe in honest, friendly and helpful customer relations at all levels. We take pride in every task, every day, with every person.