Our Award-Winning Cashew Butter
Posted on : September 30th, 2019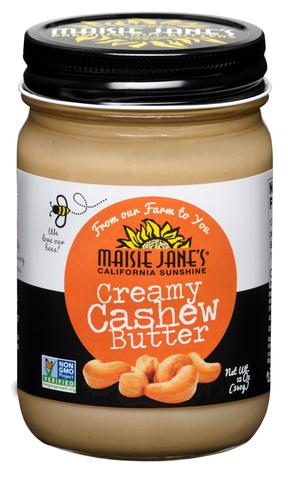 Did you see us in this month's issue of Men's Health Magazine? We're so honored to be featured as their pick for the best cashew butter!!! They suggested stirring it into a bowl of oatmeal topped with banana slices sautéed in a bit of butter and cinnamon. Yum! That sounds awesome!
Men's Health also said something that was interesting to me: "Researchers in Spain found that men who ate about 3 1/2 tablespoons of nut butter twice a week were 40 percent less likely to be overweight or obese than those who didn't dig in." Were they substituting nut butter for a less healthy choice? Do people who eat nut butter make better health and lifestyle choices in general? I don't know but Cyril Kendall, Ph.D., a researcher of nutritional science at the University of Toronto suggested that because nut butter is a great source of healthy unsaturated fats and protein, it can keep your appetite satisfied and help regulate your blood sugar so you don't have cravings for less healthy snacks.
What's great about Maisie Jane's Cashew Butter is that it is made from nothing but 100% dry-roasted cashew nuts! No added sugar, oil, salt or other ingredients that might turn a wholesome choice into something you might regret. Just healthy delicious cashew nuts. They don't need those additives—our cashew butter is naturally creamy and sweet.
It's also Non-GMO Project Verified, Kosher Certified, gluten-free, wheat-free, vegan, and made in our plant that does NOT process peanuts.
Need some recipe ideas for using cashew butter? Here are some from this blog:
---
Maisie Jane's California Sunshine Products, Inc. was founded on strong beliefs and passion for offering unique, flavorful, top-quality, nut products. We strongly believe in earth-friendly practices that start on our family owned and operated orchards. We use Organic farming practices and continue in the process by using all-natural ingredients with no preservatives or GMOs. We believe in honest, friendly and helpful customer relations at all levels. We take pride in every task, every day, with every person.