Order Easter Baskets and Gifts Today!
Posted on : April 6th, 2020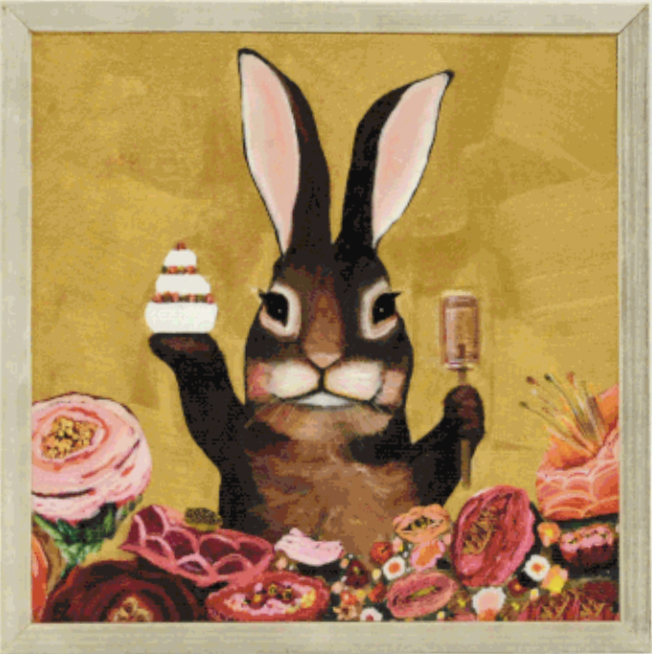 Easter is coming soon and with the coronavirus restrictions you might be wondering what to do. No worries! It's not too late to have an Easter Basket shipped right to your door on the West Coast or to send one to friends and family. If you're local you can even order online and arrange for a no hands pick up at our Production Office, which remains open, located at 3764 Hegan Lane in Chico on Friday, April 10th. But don't delay! Tomorrow (Tuesday) is the last chance to order for shipping locations West of the Rocky Mountains.* Thursday is the last chance to order for local pick-up.
This year we have a number of offerings from our country store as well as specially designed Easter Baskets and our entire assortment of always available gifts! Below are a few ideas to get you inspired. Be sure to visit the Easter section of our online shop for many more.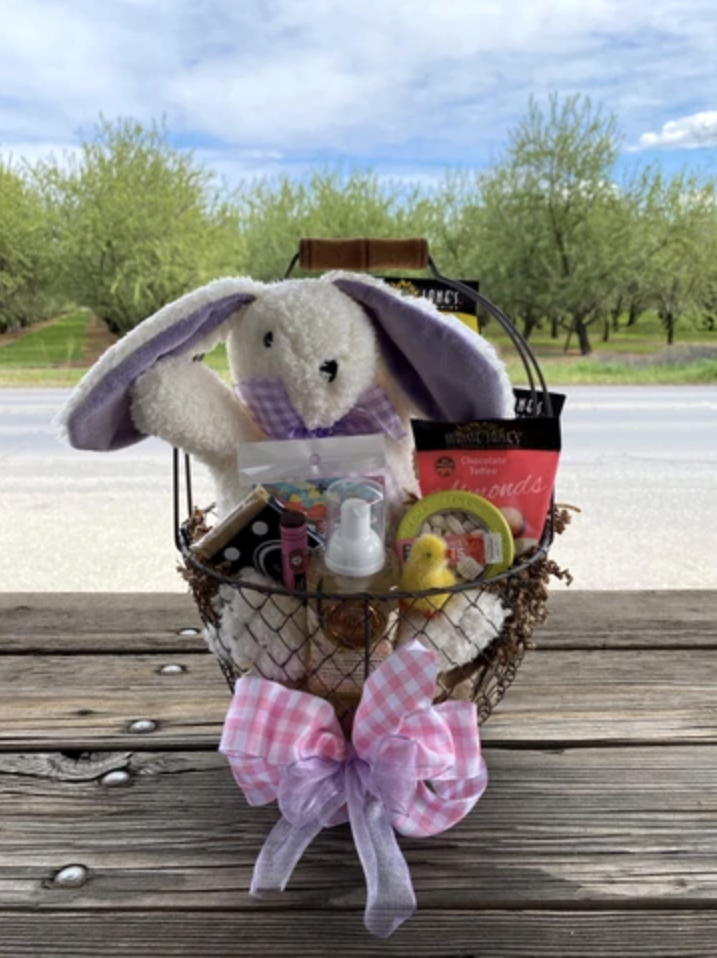 We're head over heels in love with this basket! Designed for your daughter, gal pal, niece or granddaughter, this basket is filled with things she'll love! Let's start with an adorable, naturally scented, fuzzy bunny, lamb, bear or koala stuffed with relaxing soothing lavender! You can pop the stuffed animal in your microwave for extra soothing at night. She'll also find a Jane Marie kids bracelet pack (design may vary) to give her arm a little sparkle! And Moon Valley Organic beeswax lip balm (flavor may vary), Michel Design Works foaming hand soap, SenCha Green Tea Mints, Maisie Jane's Caramel Corn with Almonds, Mint Chocolate Almonds, Chocolate Toffee Almonds, Better Than Brittle bar and of course a sweet little Easter chick!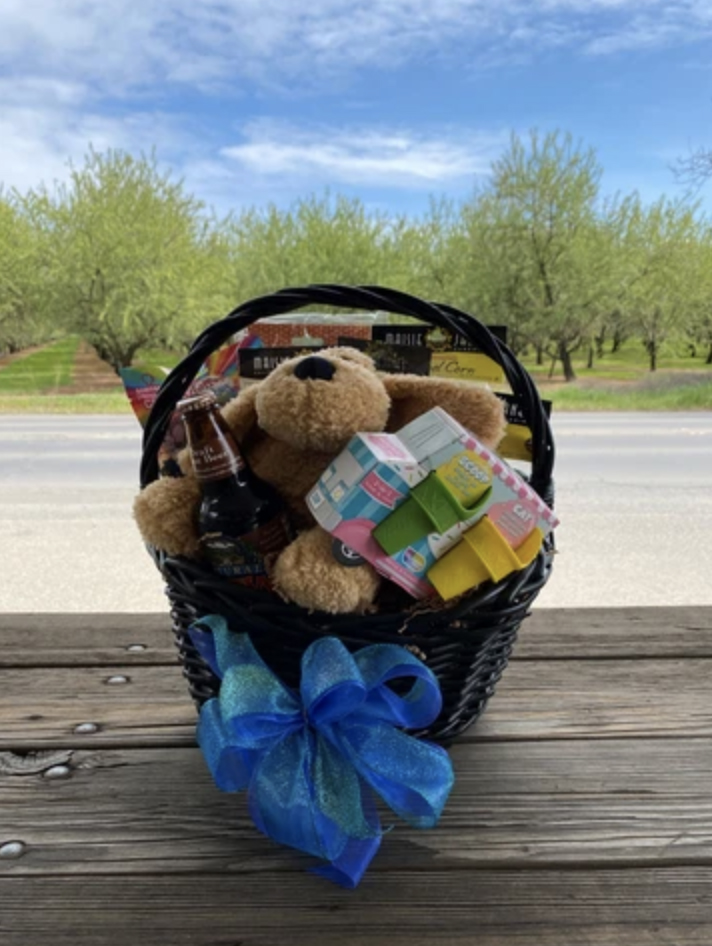 Like the Girl's Basket, this fun choice also comes with your choice of a stuffed animal filled with lavender. You can choose between a dog, bunny, frog, bear or koala. Your special boy will also find Kiddie Kones (ice cream cone and scoop in one), a Whiffer Squisher to clip on their back pack for adventuring (design may vary), The Perfect Dog (design may vary) Frozen in Time Ice Tray (to make ice cubes and use while he drinks the local all natural Root Beer also found in the basket), Maisie Jane's Caramel Corn with Almonds, Mint Chocolate Almonds, Chocolate Toffee Almonds and Cinnamon Vanilla Almonds!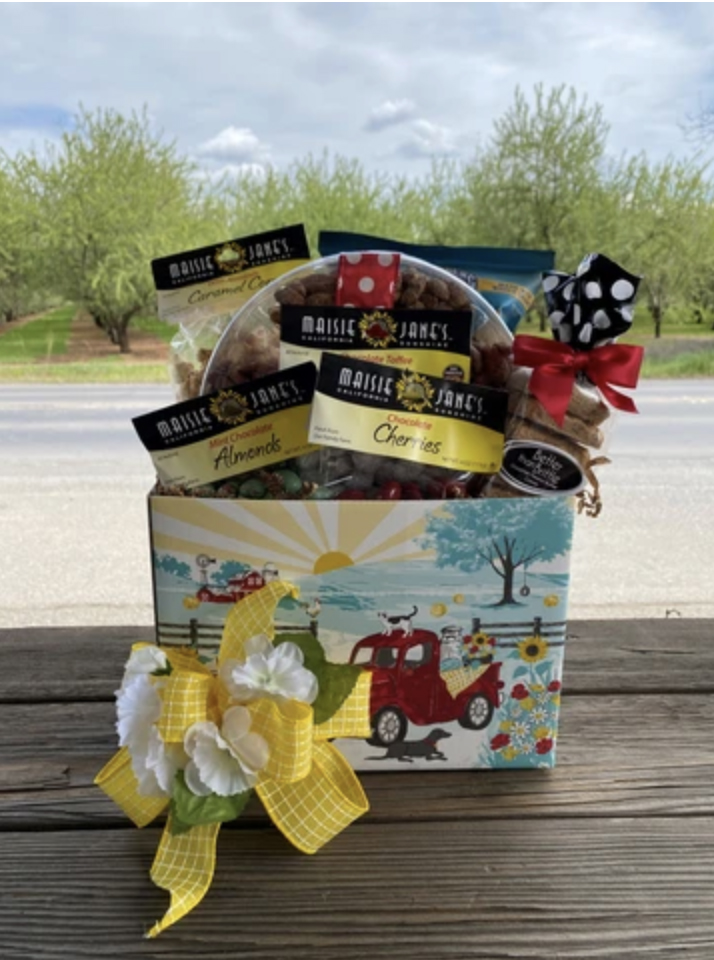 Make them smile with this fun basket featuring Lundberg Rice Chips, Better than Brittle, Maisie Jane's Caramel Corn with Almonds, Sweet & Salty Treat Round, Mint Chocolate Almonds, Chocolate Toffee Almonds and, of course, Chocolate Covered Cherries!
*Things to Know About our Easter Gifts
All of our Easter baskets are gift-wrapped with cello and a beautiful bow. And with so many delightful choices you're sure to find something your family or friends will love!
Be sure to put your order in right way if you can. With the increase in online ordering everywhere, shipping by Easter isn't guaranteed but ordering by the dates above is your best bet!
Of course, you can still order your items after the dates listed above, just know you may not receive them before Easter. BUT, who wouldn't a fun surprise any time? Make someone happy and order your gifts today.
---
Maisie Jane's California Sunshine Products, Inc. was founded on strong beliefs and passion for offering unique, flavorful, top-quality, nut products. We strongly believe in earth-friendly practices that start on our family-owned and operated orchards. We use organic farming practices and continue in the process by using all-natural ingredients with no preservatives or GMOs. We believe in honest, friendly and helpful customer relations at all levels. We take pride in every task, every day, with every person.