On the Twelve Days of Christmas My True Love Gave To Me (Gift Baskets!)
Posted on : December 18th, 2018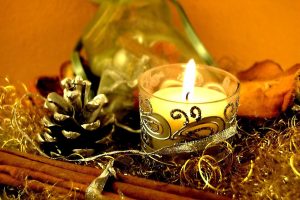 On the twelve days of Christmas my true love gave to me . . . yes, I know that's not quite how the song goes. But I wanted to remind you that just because the deadline for sending a gift basket has passed, it is not too late to extend the holiday spirit to the people you love! In fact, it is still traditional in some cultures to give a gift for 12 days starting on Christmas Day and all the way through to Epiphany (or Three Kings Day) on Jan. 6th (or the night before). For some people, on Dec. 25th, the celebration of Christmas has just begun!
Certainly, the holiday party season has just begun: office parties, family parties, formal and informal gatherings of all sorts are on the way. And whether your loved ones live near or far, you'll want to make sure they receive lots of good cheer in time for the festivities. You, at the very least, don't want to arrive empty handed! At Maisie Jane's we have gorgeous gift baskets and other party-appropriate gifts to fit every budget.
Our chocolate and savory nut rounds are probably are most popular offerings! They come in small and large sizes and you can even buy a stack of both sizes tied together with a bow. Each round contains a selection of four Maisie Jane nut treats. For example, our small and large Chocolate Delights Round (shown at the left) has Dark Chocolate, Truffle, Chocolate Toffee and Cappuccino Almonds. Our Harvest Bounty Round has two sweet and two savory selections: Cinnamon Glazed Almonds, Organic Honey Glazed Cashews, Country Herb & Garlic Almonds, Roasted Salted Pistachios. And our Mix & Match Combo combines Cinnamon Glazed, Dark Chocolate, Tamari and Chocolate Toffee Almonds.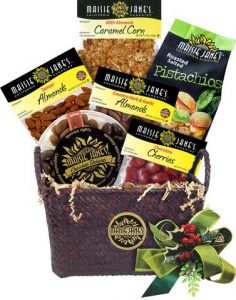 Want to bump it up a little? Want to add some delight to a small gathering of friends? This gift basket is really cute and, in addition to a small Maisie Jane's Chocolate Delight Round, contains a bulk bag of Roasted Salted Pistachios, Chocolate Cherries, Caramel Corn with Almonds, Country Herb & Garlic Almonds, and Tamari Almonds.
Wait, what's that you say? You like the idea of family or office fun but you have a large gang to feed? And the party is going to go all night long? Maybe you want to impress a client or give a special thank you to someone you want to honor or appreciate. Then our next idea is going to save the day:
This eye-popping basket overflows with more treats than you can imagine!  It contains a Maisie Jane's Large Chocolate Delight Gift Round, a Large Sweet n' Salty Gift Round, bulk bag of Roasted Salted Cashews, bulk bag of Roasted Salted Pistachios, bulk bag of Oven Roasted Almonds, bulk bag of Chocolate Cherries, Chocolate Pecans, Dark Chocolate Chipotle Almonds, Mint Chocolate Almonds, Milk Chocolate Almonds, dried Apricots, dried Plums, Natural Pecans, Cowboy BBQ Almonds, Spicy Tamari Almonds, Sweet & Salty Nuts & Seeds mix, Cinnamon Vanilla Almonds, Herb & Garlic Almonds, Better than Brittle Soft Peanut Brittle Bag, Terri Sue's Toffee, Happy Camper's English Toffee, and Lundberg Farms Rice Chips.
Order now to have your gifts shipped anywhere in the country or enjoy the convenience and savings of shopping and gifting locally by selecting online and choosing free in-store pick-up. Thank you for supporting local family farms and the local community!
---
Maisie Jane's California Sunshine Products, Inc. was founded on strong beliefs and passion for offering unique, flavorful, top-quality, nut products. We strongly believe in earth-friendly practices that start on our family owned and operated orchards. We use Organic farming practices and continue in the process by using all-natural ingredients with no preservatives or GMOs. We believe in honest, friendly and helpful customer relations at all levels. We take pride in every task, every day, with every person.